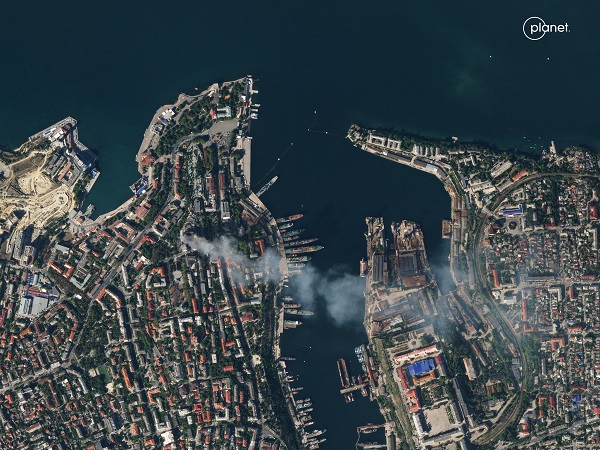 A satellite image shows smoke billowing from a Russian Black Sea Navy HQ after a missile strike, in Sevastopol, Crimea, 22 September 2023; Credit: Planet Labs PBC/Handout via Reuters
(Reuters) - At least one Ukrainian missile struck the headquarters of Russia's Black Sea navy in the Crimean port of Sevastopol on Friday 22 September 2023, and a major cyberattack interrupted internet services on the peninsula, Russian-installed officials said.
Russia's Defence Ministry said one serviceman was missing after the attack, revising its earlier statement that the man had been killed. Air defences had downed a total of five missiles, the ministry said.
Ukraine's military confirmed it had attacked the Russian Black Sea fleet's headquarters, but gave few details.
"On 22 September close to 12:00 [09:00 GMT] Ukraine's defence forces successfully struck the headquarters of the Russian Black Sea fleet command in the temporarily occupied Sevastopol," it said on the Telegram messaging app.
The Russian-installed governor of Sevastopol, Mikhail Razvozhayev, reported that emergency services had brought a fire in the building under control.
"But an equally important stage of work is now actively under way - the pouring of water on sections of the building and dismantling damaged structures," he wrote on Telegram.
Razvozhayev said some nearby roads could remain closed during this work. He also said that Sevastopol residents gathered in the streets, singing the Russian national anthem.
"Today showed that nothing can break Sevastopol," he wrote. "And the most beautiful thing about this is that this event was spontaneous."
Razvozhayev had earlier said there were no civilian casualties or damage to civilian infrastructure in his account of the missile strike posted on Telegram.
Ukraine has intensified attacks in the Black Sea and Crimea, which was seized and annexed by Russia in 2014, as Ukrainian forces press on with a nearly four-month-old counteroffensive to regain Russian-occupied territory.
Ukrainian officials have described attacks on Russian military targets in Russian-held territory as legitimate.
Oleksiy Danilov, the secretary of Ukraine's Security Council said there were two options for the future of the Russia's Black Sea fleet - voluntary or forced "self-neutralisation".
If it did not choose the voluntary option, it "will be sliced up like a salami," he said on X.
Ukrainian presidential adviser Mykhailo Podolyak said Crimea "will definitely be demilitarised and liberated". Moscow says it will never give up the peninsula.
Russian-installed authorities said air defences downed another missile on Friday near the town of Bakhchysarai.
Separately, Oleg Kryuchkov, an aide to Crimea head Sergei Aksyonov, said internet service providers on the peninsula were under an "unprecedented cyberattack", leading to interruptions in service.