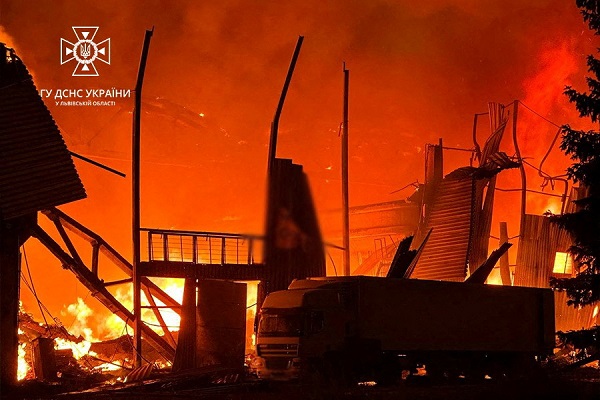 A view shows a burning industrial warehouse, damaged by a Russian drone strike, amid Russia's attack on Ukraine, in Lviv, Ukraine, 19 September 2023; Credit: Press service of the State Emergency Service of Ukraine in Lviv region/Handout via Reuters
(Reuters) - The western Ukrainian city of Lviv was rocked by blasts in the early hours on Tuesday 19 September 2023, with local officials saying the Russian air attack injured one man and caused a major fire at an industrial warehouse.
"A woman and a man were found under the rubble in Lviv. According to preliminary information, the woman was not injured. The man is in a serious condition," Lviv's region Governor Maxim Kozitsky said on the Telegram messaging app.
Reuters could not independently verify the report. The scale of the attack and full extent of the damage was not immediately known. There was no immediate comment from Russia.
Lviv city mayor Andriy Sadovyi said air raid alerts for the region were called off after nearly three hours at around 03:00 GMT.
Since the start of the war in February 2022, Russia has carried out countless attacks on Ukraine's territory far away from the front lines, aiming at destroying infrastructure critical to Kyiv's defence, energy and agriculture.
But the New York Times reported late on Monday 18 September 2023 that a reported Russian attack that killed at least seventeen people earlier this month in a crowded market in the eastern Ukrainian city of Kostiantynivka, appeared to be a "tragic mishap" on Ukraine's part.
Ukraine's President Volodymyr Zelensky condemned the attack at the time, saying Russia was behind it.
"Evidence collected and analysed by The New York Times, including missile fragments, satellite imagery, witness accounts and social media posts, strongly suggests the catastrophic strike was the result of an errant Ukrainian air defense missile fired by a Buk launch system," the newspaper reported.
Reuters could not verify the report. There was no immediate comment from Ukraine or Russia.