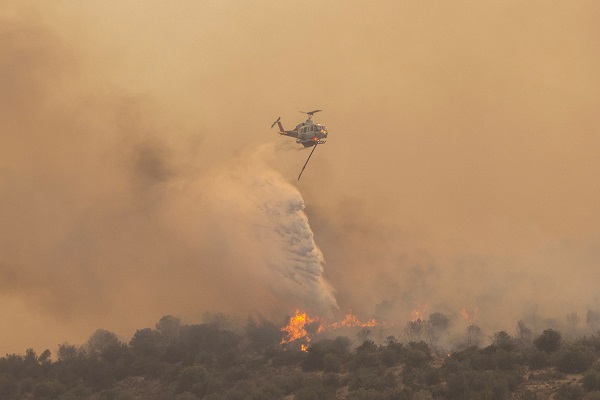 A firefighting helicopter drops water as a wildfire burns in Mandra, Greece, 18 July 2023; Credit: Reuters/Alkis Konstantinidis
(Reuters) - Europe is battling the effects of scorching weather, with June 2023 having been the hottest month on record in the 174-year history of temperature monitoring.
Last year, heat waves resulted in over 61,600 heat-related fatalities across 35 European countries and triggered devastating wildfires. This year, temperatures could exceed Europe's current record of 48.8 Celsius, recorded in Sicily in August 2021.
Below is a list of the most recent blazes and heat-related warnings issued in Europe.
Croatia
A bushfire near the coastal town of Sibenik quickly spread on Thursday 13 July 2023, fuelled by strong southerly winds. The fire was difficult to control, despite the efforts of 56 firefighters, along with 20 vehicles and three aircraft. The village of Grebastica suffered significant damage, including the destruction of cars and homes.
France
About six small-scale blazes have been recorded in the regions of Nouvelle-Aquitaine, Occitanie, Grand Est, Bouches-Du-Rhone and Corsica island. Mid-April 2023, the French geological service BRGM said that very low groundwater levels had put France on course for a worse summer drought than last year, mainly in the southern part of the country.
Greece
Fires burning since Wednesday 19 July 2023 on the island of Rhodes forced the evacuation of 19,000 people over the weekend as an inferno reached coastal resorts on the island's southeast. Tour operators flew home nearly 1,500 holidaymakers at the start of a mass evacuation on Monday 24 July 2023 and officials said the threat of further fires was high in almost every region of the country.
A wildfire also forced evacuations from the island of Corfu over the weekend. Nearly 2,500 people were offered shelter, including in stadiums, although many returned to their hotels on Monday.
Emergency services were also dealing with fires on the island of Evia, east of Athens, and Aigio, southwest of Athens.
A wildfire west of Athens has been burning since Monday 17 July 2023. More than 100 houses and businesses have been damaged by this fire and another near Athens that was put out last week. Firefighters, backed by air water bombers and reinforcements by several countries, including Cyprus, France, Israel and Italy, are attempting to control the fire. Flames were supported by strong wind and heat waves, several media reported.
Italy
Fires were burning in woods and vegetation in various parts of Calabria, the southernmost part of the Italian mainland.
Sicily's civil protection agency said the temperature in some areas in eastern Sicily rose to 47 Celsius on Sunday 23 July 2023, close to the record European high of 48.8 Celsius from two years ago. Properties on the island suffered blackouts because of the heat wave.
The health ministry on Tuesday 18 July 2023 issued red weather alerts for 20 of the country's 27 main cities. Rome registered a new record high temperature of 41.8 Celsius, the weather service of the local Lazio region reported.
Portugal
Mainland Portugal is facing widespread drought, with some 90% of the country affected. The drought expanded during an abnormally hot and dry April, as reported by the meteorology agency IPMA in May 2023.
Russia
In central Russia's Urals region, in the small village of Shaidurikha near Yekaterinburg, wildfires spread on Wednesday 12 July 2023 and caused significant damage. One woman died, two people were hospitalised with burns and 41 houses were burned down as the fire rapidly spread. Dry and windy weather conditions contributed to the fire's intensity.
Spain
A wildfire started on Saturday 15 July 2023 on the island of La Palma, leading to the evacuation of more than 4,000 people. The fire has been contained, Spanish newspaper El País reported on Wednesday 19 July 2023, after burning 2,900 hectares of the island, including 200 hectares of the Caldera de Taburiente National Park.
Spain has been enduring a prolonged period of drought, with the first four months of 2023 being the driest on record.
Switzerland
Swiss police issued evacuation orders on Monday 17 July 2023 for several mountain villages due to the spread of a fire on the forested flank of a mountain in Bitsch in the Valais canton near the Italian border. More than 200 people were forced to evacuate. Although the situation was "stable", the fires were still not completely under control on Saturday 22 July 2023, a local official said according to Swiss media RTS.
Turkey
Wildfires started in Turkey's southeastern Hatay and Mersin provinces and Canakkale province in the northwest on Sunday 16 July 2023, the Turkish General Directorate of Forestry said on its Twitter account.