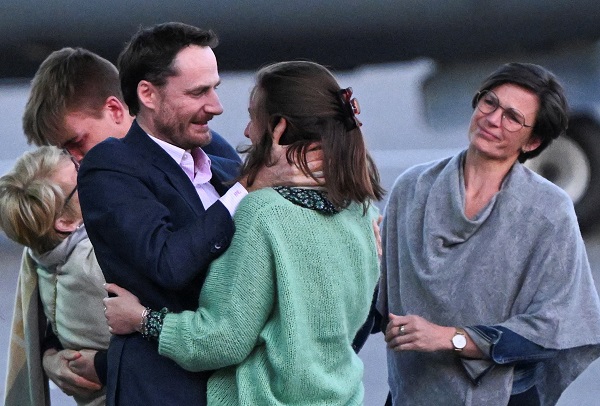 Belgian Aid worker Olivier Vandecasteele, who was arrested in Iran in 2022 and sentenced to 40 years in prison, is freed in a swap with an Iranian diplomat imprisoned in Belgium; Credit: Didier Lebrun/Pool via REUTERS
BRUSSELS/DUBAI (Reuters) - On Friday night, 26 May 2023, a Belgian aid worker arrived back in Belgium from Iran, where he had been accused of spying and jailed until being freed in a prisoner swap with an Iranian diplomat who had been imprisoned in Belgium in connection with a failed bomb plot.
Aid worker Olivier Vandecasteele, 42, was arrested on a visit to Iran in February 2022 and sentenced in January to 40 years in prison and 74 lashes on charges including spying. The Belgian government said on Friday they had reason to believe that Iran had been planning to increase his sentence.
Iranian diplomat Asadollah Assadi was convicted in Belgium in 2021 in connection with a foiled bomb plot in France and sentenced to 20 years in prison.
Both countries rejected the charges against their citizens as fabricated.
Vandecasteele landed at Melsbroek Air Base next to Brussels Airport and was met by his family, Belgian VRT TV showed. Oman had mediated the swap.
Iranian state TV reported that Assadi had arrived back in Tehran and showed him sitting with officials including government spokesman Ali Bahadori Jahromi.
Iranian Foreign Minister Hossein Amirabdollahian described Assadi in a Twitter post as "our country's innocent diplomat who was illegally arrested against international law".
Belgium's Constitutional Court in March upheld a prisoner exchange treaty with Iran, but that was not what was used to free Vandecasteele.
Using the treaty would have taken too long, Belgian government officials said, as that would have meant that the target of the bomb plot in France, the exiled National Council of Resistance of Iran (NCRI), could have gone to court to stop the transfer.
Instead, Belgium used Article 167 of its constitution which specifies that the government can conduct its own foreign policy and regulate international relations, a government official said.
NCRI said Assadi's release 15 years before the end of his sentence encouraged terrorism. "Nothing justifies releasing a terror master," Shahin Gobadi from NCRI said. "Nothing."
Belgian opposition party N-VA said in a statement the government had succumbed to Teheran's blackmail politics.
Oman's foreign ministry said earlier an agreement had been reached under which the prisoners were released and transported from Brussels and Tehran to Muscat, the Omani capital, on Friday in preparation for their repatriation. The Gulf Arab country has good relations with both Iran and Western countries and has acted before as a mediator for the two estranged sides. Oman's Sultan Haitham bin Tariq al-Said is scheduled to travel to Iran on Sunday for a two-day visit.
Belgium's justice minister said at the time of Vandecasteele's conviction that it was based on fabricated evidence and amounted to retribution for the prison term given to Assadi.
Iran has arrested dozens of foreigners and dual nationals in recent years, mostly on espionage and security-related accusations. Rights groups have criticised the arrests as a tactic to win concessions from abroad by inventing charges, an accusation Tehran denies.
The Belgian government said Vandecasteele had been the only Belgian prisoner in Iran.