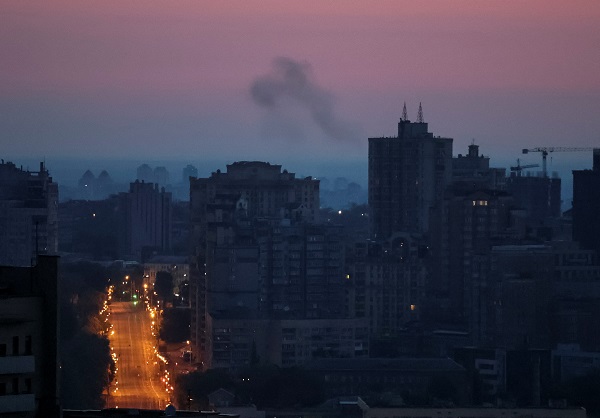 Smoke rises in the sky over the city after a Russian missile strike, in Kyiv, Ukraine, 26 May 2023; Credit: ReutersS/Gleb Garanich
(Reuters) - Ukraine shot down ten missiles and over 20 drones launched by Russia in overnight attacks on the capital Kyiv, the city of Dnipro and eastern regions, Ukrainian officials said on Friday 26 May 2023.
Russia has intensified missile and drone attacks on Ukraine this month, mainly attacking logistics and infrastructure facilities before an expected Ukrainian counteroffensive.
The Ukrainian air force said it had shot down ten missiles fired from the Caspian Sea, 23 Iranian-made Shahed drones and two reconnaissance drones.
It said a total of seventeen missiles and 31 drones had been launched during the attacks, which started at around 22:00 (19:00 GMT) on Thursday 25 May 2023 and continued until 05:00 on Friday 26 May 2023.
Several drones and several missiles hit targets in the Kharkiv and Dnipropetrovsk regions, officials said.
There was no immediate word of any deaths.
"It was a very difficult night. It was loud - the enemy launched a mass attack on the region with missiles and drones," Serhiy Lysak, the Dnipropetrovsk regional governor, said on the Telegram messaging app. "Dnipro has suffered."
Lysak said several houses, cars and private companies, including a transport company and a petrol station, had been damaged.
Officials in Kyiv said the roof of a shopping centre, a private house and several cars had been damaged. The governor of the Kharkiv region also reported damage to several private houses and industrial facilities.
Russia, which began its full-scale invasion fifteen months ago, has launched hundreds of missile attacks since last October, seeking to destroy critical infrastructure and power facilities.
It has shifted the focus of its missile strikes to try to disrupt preparation for a Ukrainian counterattack, military officials have said.