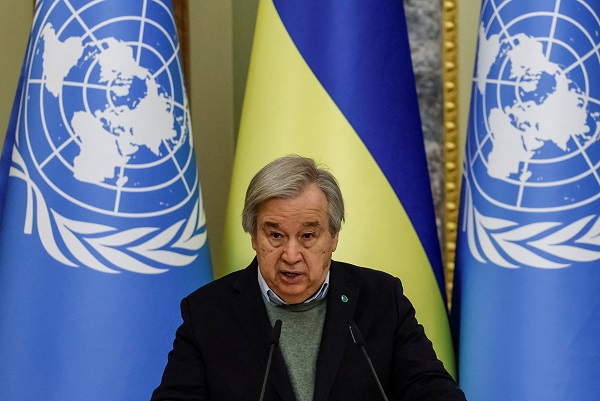 File photo: UN Secretary-General Antonio Guterres attends a joint news briefing with Ukraine's President Volodymyr Zelensky, in Kyiv, Ukraine, 8 March 2023; Credit: Reuters/Alina Yarysh/File Photo
BRUSSELS (Reuters) - European Union (EU) leaders will discuss the war in Ukraine with United Nations (UN) chief Antonio Guterres on Thursday 23 March 2023 and also endorse a plan to ramp up the supply of artillery shells to Kyiv.
Guterres will be a guest at an EU summit in Brussels, days after the renewal of a deal brokered by the UN and Turkey on the safe export of Ukrainian grain through the Black Sea.
That humanitarian measure will discussed at a working lunch with Guterres before the UN Secretary-General takes his leave and EU leaders get an update on the war from Ukrainian President Volodymyr Zelensky via video link, officials said.
"We will, as always, reaffirm our unwavering commitment to assist Ukraine," declared Charles Michel, president of the European Council of EU leaders.
The leaders will give their blessing to a plan (agreed by foreign ministers on Monday 20 March 2023) to send one million artillery shells to Ukraine over the next year by digging into stocks and making a landmark move into joint procurement.
Zelensky's government has told its Western allies that it urgently needs large amounts of 155 mm shells as it fights a fierce war of attrition with invading Russian forces.
Officials have warned that Ukraine is burning through shells at a faster rate than its allies can produce them, prompting a renewed search for ammunition and ways to boost production.
The EU scheme is based on a plan from foreign policy chief Josep Borrell, following a proposal from Estonia, one of Ukraine's most assertive supporters inside the EU.
The plan earmarks €1 billion for the swift supply of shells - and possibly missiles - from existing stocks and another €1 billion for joint orders by EU countries for more rounds.
The money will come from the European Peace Facility (EPF), an EU-run fund that has already provided billions of euros for military aid to Ukraine. Leaders at the summit may begin a discussion on a further top-up to the fund, diplomats said.
It is unclear how quickly the plan could have an impact on the battlefield, partly because governments keep secret how much ammunition they have left in their stockpiles, which have already been depleted by deliveries to Ukraine.
Artillery produced via a new joint procurement initiative will take months to arrive, although EU officials stress they are moving at unprecedented speed for such a project. They say they aim to sign first contracts with arms firms in late May 2023.
"We will need to take measures to boost the manufacturing capacity of the European defence industry," Michel said in his letter inviting fellow EU leaders to the summit.