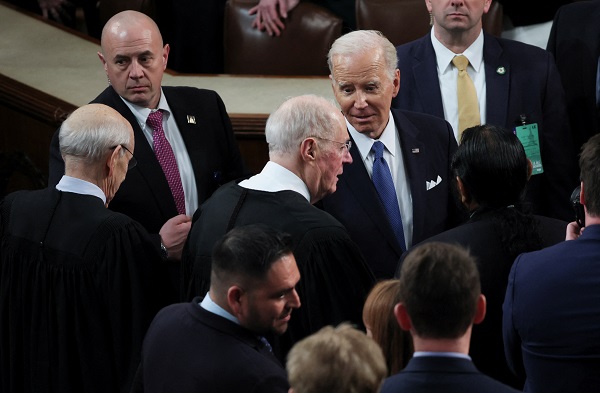 US President Joe Biden at his State of the Union address on Tuesday 7 February 2023; Credit: REUTERS/Leah Millis
WASHINGTON (Reuters) - US President Joe Biden said in his State of the Union address on Tuesday 7 February 2023 that he would cooperate with great power rival China, but vowed "to protect our country," a reference to a Chinese spy balloon that travelled across America last week.
"I'm committed to work with China where we can advance American interests and benefit the world," Biden said. "But make no mistake about it: as we made clear last week, if China threatens our sovereignty, we will act to protect our country. And we did." Beijing denied the balloon was an espionage device.
Biden had been expected to address competition with China, but his speechwriters would have added that remark after the balloon traversed the skies above the United States - dominating the news cycle - before a US fighter jet shot it down over the Atlantic Ocean on Saturday.
Secretary of State Antony Blinken, who sat with other members of the cabinet in the House of Representatives as Biden spoke, cancelled a planned trip to Beijing amid the uproar.
Republicans seized on the balloon incident to assail Biden's decision, based on military advice, not to shoot it down sooner for fear debris could harm people on land.
Republicans, who took control of the House of Representatives last month, have pushed a hard line in dealings with Beijing, but it is one of the few truly bipartisan sentiments in the deeply divided US Congress.
Biden touted legislation passed last year with strong support from both his fellow Democrats and Republicans that boosted the US semiconductor industry, and promised more. "I will make no apologies that we are investing to make America strong. Investing in American innovation, in industries that will define the future, that China intends to be dominating," Biden said.
Democrats have joined Republicans in demanding more information about the balloon and the Biden administration's policy toward the government in Beijing.
The White House has taken a more nuanced approach, seeking to tamp down tensions with China that flared in August when former House Speaker Nancy Pelosi, a Democrat, visited Taiwan. Pelosi's visit prompted Beijing to conduct military drills near the Chinese-claimed island. Tensions could spike again if the new House speaker, Republican Kevin McCarthy, visits Taiwan as expected this year.
Seven weeks after Ukrainian President Volodymyr Zelensky addressed lawmakers from the same podium, Biden also denounced Russia's invasion of Ukraine and touted US support for the government in Kyiv.
Congress has approved more than $100 billion in aid and military assistance for Ukraine and partner nations since Russia invaded Ukraine on 24 February 2022.
"Together we did what America always does at our best. We led. We united NATO. We built a global coalition," Biden said, vowing to stand with Ukraine "as long as it takes."
A few Republicans - led by those most closely aligned to former President Donald Trump - have questioned whether Washington should keep sending so much money to the government in Kyiv.
But most of the party - including its leaders and top members of national security committees in Congress - expect the money to continue. Biden's comments about Ukraine were met with loud applause and cheers from both Republicans and Democrats.