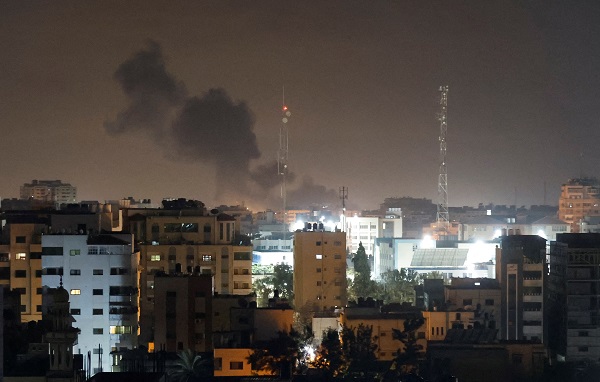 Smoke rises during Israeli airstrikes in Gaza City, 2 February 2023; Credit: Reuters/Mohammed Salem
GAZA (Reuters) - On Thursday 2 February 2023, Israeli aircraft struck in Gaza in response to Palestinian rocket fire, days after the United States (US) urged all sides to calm escalating violence.
With no reports of serious casualties, the exchange followed a familiar pattern that signalled neither side was seeking a wider conflict.
Separately, Israel, which collects taxes on behalf of the Palestinian Authority (PA), would use 100 million shekels ($29.38 million, or €26.6 million) from PA funds to compensate victims of Palestinian militant attacks, against stipends the PA pays to assailants' families, Finance Minister Bezalel Smotrich said.
There was no immediate comment from the PA.
The military said its air strikes targeted rocket and weapon production sites used by Hamas, the Islamist militant group that controls the blockaded strip, in response to Wednesday's rocket launch.
No Palestinian groups claimed Wednesday's rocket fire. An unverified video circulating on social media appeared to show three rockets before launch, one of which said "female prisoners are a red line".
Powerful explosions shook buildings and lit up the night sky over Gaza as warning sirens sounded in Israeli towns and villages around the strip warning of incoming rocket fire before dawn on Thursday.
The Democratic Front for the Liberation of Palestine (DFLP) said it had fired some of the rockets in response to the air strikes and the "systematic aggression" against Palestinian prisoners in Israeli jails.
The fire exchange underlined the tensions between Israel and the Palestinians after a Palestinian gunman shot dead seven people near a synagogue on the outskirts of Jerusalem and an Israeli raid in the West Bank killed ten Palestinians, including eight militants.
Last year was the deadliest in more than a decade in the West Bank, with violence steadily escalating following a spate of lethal Palestinian attacks in Israel, which drew stepped-up Israeli raids against gunmen.
US Secretary of State Antony Blinken urged calm on wrapping up a visit to the region on Tuesday 31 January 2023, in which he reaffirmed Washington's support for a two-state solution to the decades-long conflict.
Top US diplomat for the Middle East, Barbara Leaf, and US special representative for Palestinian affairs, Hady Amr, remained behind to continue de-escalation talks between the sides and are due to meet Palestinian officials on Thursday.
In a tweet sent after Wednesday's rocket launch, Israel's far-right National Security Minister Itamar Ben-Gvir, who oversees prisons, said he would push ahead with plans to toughen conditions for Palestinian prisoners.
Separately, an official from the Iran-backed Islamic Jihad said a delegation from the group's political office, led by the faction's chief in exile Ziyad al-Nakhala, would visit Cairo on Friday 3 February 2023 for talks which would also include the Palestinian-Israeli conflict.
The official, who asked not to be named, said the visit was scheduled before the latest violence but he said the current escalation in Gaza and the West Bank would inevitably be discussed.