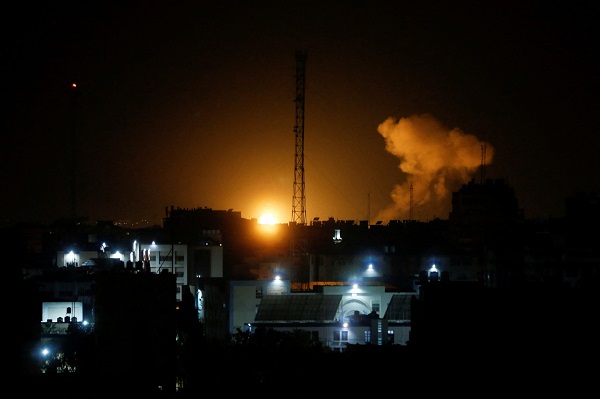 Smoke and flames rise during Israeli airstrikes in Gaza City, 27 January 2023; Credit: Reuters/Arafat Barbakh
JERUSALEM (Reuters) - On Friday 27 January 2023, Palestinian militants fired two rockets from the Gaza Strip towards southern Israel that were intercepted by missile defenses, and Israel then carried out strikes in Gaza.
The cross-border fire came after an Israeli raid in the occupied West Bank on Thursday 26 January 2023 that led to the largest single death toll in years of fighting.
The overnight rockets triggered sirens in Israeli communities near the border with Gaza, warning residents to take shelter. There were no reports of injuries.
Israel's Channel 12 aired footage of Israeli interceptor missiles being launched into the night sky above the city of Ashkelon, about 12 km north of Gaza, which is controlled by the Islamist militant group Hamas.
A few hours later, Israel's military said it had carried out strikes in Gaza. Palestinian witnesses said Israeli aircraft had targeted a Hamas training camp. No injuries were reported.
Tensions flared after Israeli commandos killed seven gunmen and two civilians during the raid on the flashpoint town of Jenin. Hamas and the smaller militant group Islamic Jihad promised a response, but there was no immediate claim for the rocket fire.
After the Jenin violence, the Palestinian Authority said it was ending its security coordination with Israel, an arrangement that is widely credited with helping to keep order in the West Bank and preventing attacks against Israel. It has frozen the cooperation numerous times in protest.
Prime Minister Benjamin Netanyahu said Israel was not looking to escalate the situation, though he ordered security forces to be on alert.
United States, United Nations and Arab officials spoke with Israel and Palestinian factions to try to keep the clash in Jenin, among areas of the West Bank that have seen intensified Israeli operations, from sparking a broader confrontation.
Violence has surged since a series of lethal Palestinian street attacks in Israel last March and April. The attendant diplomatic stalemate has helped rally Palestinian support for Hamas and Islamic Jihad, which refuse coexistence with Israel - where Netanyahu's new hard-right government includes members opposed to Palestinian statehood.