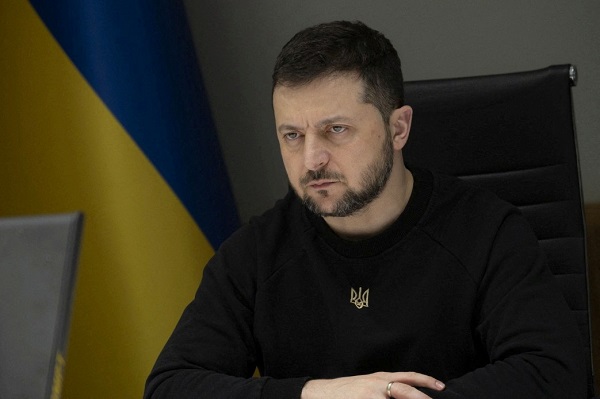 File photo: Ukraine's President Volodymyr Zelensky speaks via video link during a meeting of ministers of defence at Ramstein Air Base in Germany to discuss how to help Ukraine defend itself, in Kyiv, Ukraine, 20 January 2023; Credit: Ukrainian Presidential Press Service/Handout via Reuters
KYIV (Reuters) - On Monday 23 January 2023, Ukrainian President Volodymyr Zelensky said that changes would be announced imminently in the government, the regions and in the security forces following allegations of corruption nearly a year into Russia's invasion.
Volodymyr Zelensky, elected by a landslide in 2019 on pledges to change the way government operated, did not identify in his nightly video address the officials to be replaced.
"There are already personnel decisions - some today, some tomorrow - regarding officials of various levels in ministries and other central government structures, as well as in the regions and in the law enforcement system," President Zelenskiy said.
The President said part of the crackdown would involve toughening oversight on travelling abroad for official assignments.
Ukrainian media outlets have reported that a number of cabinet ministers and senior officials could be sacked as President Zelensky tries to streamline the government.
One of the President's top allies earlier said corrupt officials would be "actively" jailed, setting out a zero-tolerance approach after the allegations came to light.
History of corruption
Ukraine has a long history of corruption and shaky governance, though there have been few examples since last year's invasion as Kyiv has sought Western financial and military support to help fight back Russian forces.
Anti-corruption police on Sunday 22 January 2023 said they had detained the deputy infrastructure minister on suspicion of receiving a $400,000 kickback to facilitate the import of generators into wartime Ukraine last September.
A committee of parliament agreed on Monday to toughen regulations on procurement after allegations in news reports that the Defence Ministry had overpaid suppliers for soldiers' food. A draft law was to be introduced on partially making procurement prices public in times of conflict.
Defence Minister Oleksiy Reznikov, quoted by media, told the committee that the reports were based on a "technical error" with no money changing hands.
The National Anti-Corruption Bureau said it was aware of the media report and that it was investigating the possible crime of appropriation of funds or abuse of power with regard to procurement worth over 13 billion hryvnia ($352 million, or €323 million).
David Arakhamia, head of Zelenskiy's Servant of the People party, said it had been made clear since Russia's invasion that officials should "focus on the war, help victims, cut bureaucracy and stop dubious business".
"Many of them got the message. But many of them did not unfortunately. We're definitely going to be jailing actively this spring. If the humane approach doesn't work, we'll do it in line with martial law," he said.
Timofiy Mylovanov, a former minister for the economy, trade and agriculture, praised the government's "proactive and very fast" response to the allegations. He said the deputy infrastructure minister had been immediately fired and pointed to society's "unprecedented" level of attention in the matter.
Ukraine, whose economy shrank by a third last year, is hugely dependent on Western financial aid and donors such as the International Monetary Fund (IMF) and the European Union (EU) have repeatedly asked for more transparency and better governance.