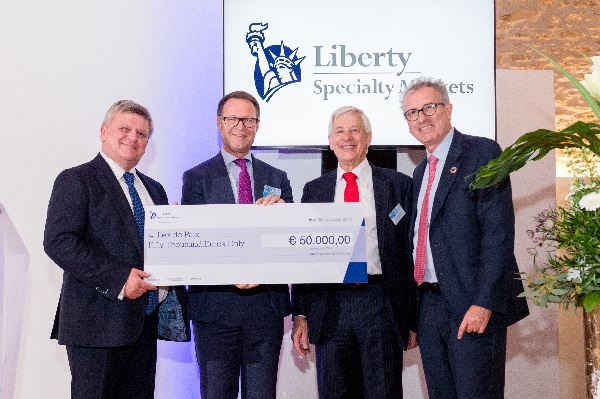 L-R: Dirk Billemon; Stéphane Ries; Keith Nicholson; Pierre Gramegna; Credit: Liberty Specialty Markets
On Tuesday 8 October 2019, Liberty Specialty Markets (LSM) held the official opening reception of its new European headquarters in Luxembourg; the event was held at Le Schéiss in the presence of Minister of Finance Pierre Gramegna.
The event served to demonstrate LSM's commitment to Luxembourg, its long-term vision and dedication to its policyholders and broker partners in the main European markets. It also highlighted LSM's new charitable partnership with the NGO Iles de Paix Luxembourg. This key corporate social responsibility initiative will enable LSM to support the "Kood Zaanbo" programme in the Peace Islands of Burkina Faso for two years. The programme aims to empower beneficiary rural populations through improved crop management and the development of incomegenerating activities for women.
Following an introduction by Keith Nicholson, Chairman of the board of LSM, Pierre Gramegna underlined the Grand Duchy's strengths in the business sector, while welcoming the arrival of LSM to contribute to the further diversification of the financial centre and insurance sector.
For his part, Dirk Billemon, General Manager at Liberty Mutual Insurance Europe SE, said: "We are delighted to present Iles de Paix (IdP) with LSM's first donation of €25,000. The charities that we support are selected based on their long-term sustainability and impact within the communities where we live and work, and in the developing world. IdP's innovative work overseas to help communities prosper and become self-sufficient supports this ethos. Over the next two years IdP will receive corporate donations totalling €50,000 from LSM. The Ministry of Foreign and European Affairs will make a related contribution based on the value of LSM's funding which means the combined donation to this project will be €250,000".
Mr. Billemon added: "IdP's "Kood Zaanbo" programme complements our global strategic partnership with WaterAid, a charity that aims to make water, toilets and hygiene normal for everyone, everywhere. We're looking forward to working with IdP, to understand the programme and to make a positive impact in Burkina Faso, as part of our aim to help communities to prosper. We will look for ways for employees to engage with IdP, such as activities in the workplace to raise additional charitable donations for them".
Finally, Stéphane Ries, President of Iles de Paix Luxembourg, thanked the group and its employees for their support before emphasising the importance of this large commitment for this programme, which contributes to improving the food and financial security of beneficiary families while supporting women in particular.