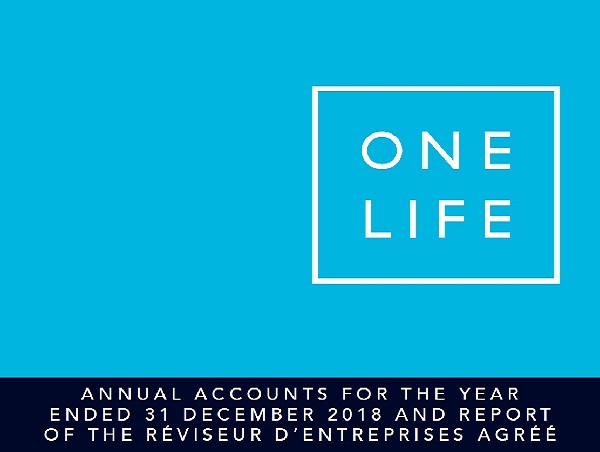 Luxembourg-based life insurance provider One Life Company S.A. (OneLife) and its parent company, The OneLife Holding Sàrl, have released their annual accounts which confirm 2018 as a year of strong performance with increased revenue generation and market diversification.
In terms of financial performance, OneLife collected €563 million in new business premiums (+11% compared to 2017), with a profit of €5.2 million reported in 2018. In addition, assets under administration remained steady at around €5 billion and the Company has confirmed its financial stability with a solvency II ratio of 154% at the end of the year.
Indeed, OneLife delivered strong results in 2018, confirming its strategy initiated in 2015 to grow its market share through a combination of investment in new market development and technology, together with improved cost control and use of capital. The main 2018 highlights included market expansion in Belgium (historically the company's primary market) as well as the new markets of the Nordics, France and Spain, where OneLife ranked 2nd among Luxembourg life assurance companies in terms of new premiums. In addition, OneLife confirmed new relationships with significant global institutional partners seeking innovative cross-border solutions.
Another highlight, this time in the area of corporate development, was the acquisition of the company by APICIL Group, the fourth largest social protection group in France, announced on 1 August 2018. The deal was completed on 2 January 2019 and OneLife is now part of the APICIL Group, which intends to continue to grow OneLife's core expertise as a life assurance company specialised in international wealth solutions for high-net-worth clients and their families.
In terms of sustained investment in technology and innovation, OneLife completed the consolidation of its IT systems in 2018, migrating to a single policy administration platform to deliver an enhanced and consistent experience to its partners and clients across markets. In addition, investment in digital tools such as the electronic signature, upgrades to its secure online platforms and App and the availability of policy statements on-line were introduced.
Finally, regarding talent acquisition, OneLife significantly invested in the recruitment of talent in multiple areas such as Wealth Structuring, Customer Services and Investments in 2018 in order to support its global ambitions of servicing increasingly demanding international wealthy clients.
OneLife's CEO, Antonio Corpas, commented: "2018 proved to be another year of strong achievements for OneLife. The company's acquisition by APICIL Group is testimony to our business model and strong trajectory of growth. In 2019, we are committed to strengthen further our market positions, increase our operational efficiency and bring innovation to our services for an enhanced client and partner experience".