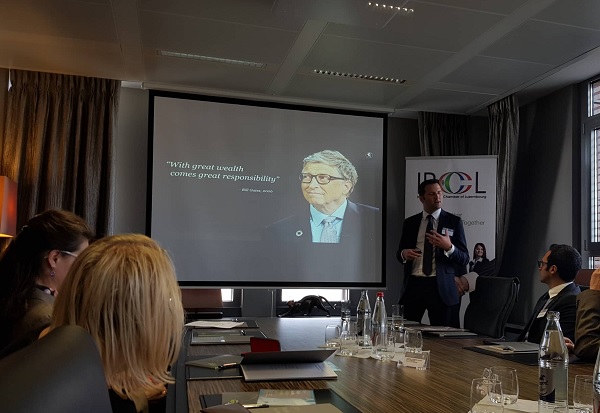 Simon Gorbutt LL.M. TEP - Director, Regional Head of Wealth Structuring Solutions at Lombard International Assurance; Credit: Jazmin Campbell
On Tuesday, the Indian Business Chamber of Luxembourg (IBCL), in cooperation with Lombard International Assurance S.A., held a seminar on "Life insurance and succession planning for internationally mobile clients".
The event, which followed the IBCL's 10th anniversary event held just over a week ago, saw a presentation from Simon Gorbutt LL.M., Director, Regional Head of Wealth Structuring Solutions at Lombard International Assurance, and Vivek Belani Asnani, a Senior Analyst in the Non-Traditional Assets department of Lombard International Assurance. The speakers particularly highlighted the role of investment-linked insurance and Non-Traditional Assets (NTA) in the context of a fast-changing global economic situation.
For his part, Simon Gorbutt emphasised the impact of mobility, technology and globalisation in the insurance and wealth management sectors. The Luxembourg-based solicitor and qualified Trust and Estate Practitioner (TEP) stated that "lots remains to be done to ensure that wealth is transferred in the right way and reaches its destination" in an increasingly uncertain world. The challenge here will be, according to Simon Gorbutt, providing comprehensive but simple and individualised but adaptable solutions that protect against the unknown.
In this regard, Simon Gorbutt highlighted three key areas in wealth planning: mobility, life events and family dynamics. Indeed, there is the need to respond to clients that are moving to different countries with different jurisdictions. In response, Mr Gorbutt considered insurance to be well-suited to meet this demand since it is "immune" to distinctions in legal systems and can thus rather easily cross borders.
Simon Gorbutt similarly emphasised the suitability of insurance as a response to both expected and unexpected life events, as well as regarding laws for property, taxation and succession, to name but a few. Indeed, succession was found to be among the top five risks in wealth management in recent years. Insurance offers a solution in this context, since, for example, its insurance contracts are largely out of scope of the EU Succession Regulation, according to Mr Gorbutt.
Concerning family dynamics, Simon Gorbutt added that insurance plans for the "softer issues" associated with the imperfect family unit, for instance concerts related to family conflict or a lack of maturity on behalf of the beneficiary in terms of succession. More specifically, policy holders can include conditions in their insurance contract which determine when, how and if wealth is transferred to the beneficiary.
Senior Analyst Vivek Belani Asnani then discussed Non-Traditional Assets (NTA), which encompass "assets without a listed price at an accepted stock exchange, limited transferability and/or limited liquidity" within three key categories. Outlining the benefits of NTAs, he highlighted the low-to-minimal market volatility associated with the local relation between these assets and the market, as well as higher real returns in the longer term, a diversified portfolio and the implementation of risk mitigation actions for a "smoother investment transition." In the fourth quarter of 2018, Lombard International Assurance had 1,762 NTA cases across over 30 jurisdictions, amounting to €4.4 billion.
Concluding the presentation, Simon Gorbutt claimed that insurance offers a resilient and holistic solution in a time of unprecedented change, one that can adapt to family needs and offer certainty and control over succession.
The event ended with a Q&A session with the audience, during which topics such as bankruptcy, regulatory risks, green finance and the specific benefits for clients in Luxembourg were discussed. The speakers similarly elaborated on Lombard International Assurance's links with US investment fund Blackstone and how the latter's investment has helped put Lombard "on the map".