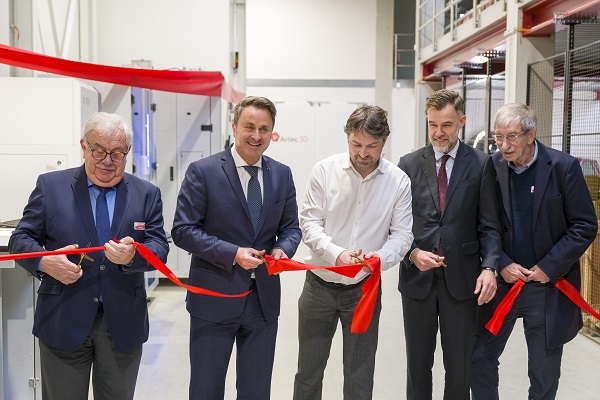 L-R: Raymond Weydert, Mayor of Niederanven; Luxembourg's PM Xavier Bettel; Art Yukhin, Artec 3D CEO; Franz Fayot, Luxembourg's Economy Minister; Jean Schiltz, Niederanven alderman; Credit: © SIP / Jean-Christophe Verhaegen
Tuesday 31 January 2023 saw the inauguration of the new site of Artec 3D's optoelectronic production facility in Senningerberg, in central Luxembourg.
On Tuesday, Luxembourg's Prime Minister Xavier Bettel and the Minister of the Economy, Franz Fayot, visited the premises of Artec 3D in Senningerberg to inaugurate the new optoelectronic production facility site, where the Luxembourg-headquartered company's award-winning 3D scanners will be assembled and manufactured.
The new production line includes a 300 m2 clean room which boasts an IS07 cleanliness classification and personalised temperature, pressure and humidity control. The clean room is also equipped with state-of-the-art data intelligence software that shows (in real time) the state of the room. According to Luxembourg's Ministry of State and the Ministry of the Economy, this technology is unique in Luxembourg and ensures the highest levels of production, safety and precision. With this new production line, Artec 3D aims to continue to lead the way in 3D scanning hardware and software.
Founded in 2007 in Paolo Alto, California (US), the company transferred its head office to Luxembourg in 2010. Developing and producing innovative 3D scanners that are used in many fields such as reverse engineering, quality inspection, design, Industry 4.0, healthcare and forensics, Artec 3D is currently active in 150 countries and employs more than 220 people in four countries. In November 2022, the Luxembourg Directorate of Defence provided a full set of innovative Artec 3D solutions to Ukraine for the 3D scanning of forensic evidence in order to document possible war crimes. Artec 3D has also partnered with local non-profit organisation LUkraine asbl since the war started last year.
On Tuesday, after a short presentation of the company's activities, the delegation visited the clean room. Luxembourg's Prime Minister and the Economy Minister then underwent a full 3D body scan.
During the inauguration, Prime Minister Bettel commented: "Thanks to this investment by Artec 3D, Luxembourg has one of the most sophisticated clean rooms in Europe. As a government, we are proud to have facilitated this investment. The story of Artec 3D is a real success story and also an example of a public-private partnership that worked very well."
"Since its arrival in Luxembourg in 2010, Artec 3D has undergone remarkable development and has become perfectly integrated into the Luxembourg economic fabric. The company is now a world leader in the development of innovative 3D solutions and products, which show great promise in many fields, particularly in the face of the challenge of the dual digital and green transition," Economy Minister Franz Fayot added. "With this new production line, the company strengthens its Luxembourg roots and contributes to the influence of 'Made in Luxembourg' throughout the world. As the Ministry of the Economy, we are proud to have been able to support Artec 3D since its inception, in particular through Luxinnovation and thanks to financial aid."
Art Yukhin, CEO of Artec 3D, stated: "We are very proud to inaugurate the most sophisticated cleanroom in Luxembourg and one of the best in Europe for producing high-performance electronics with very small components and very high frequencies. Our PCB (electronics) assembly line is fully automatic and consists of the latest and best production and quality inspection machines from Japan, South Korea, Germany, Italy and the United States. This new state-of-the-art facility marks the start of a new chapter for Artec and our increased ability to supply new products in the future. We thank the Luxembourg government for participating in the inauguration of our new facilities and for celebrating this important milestone with us."