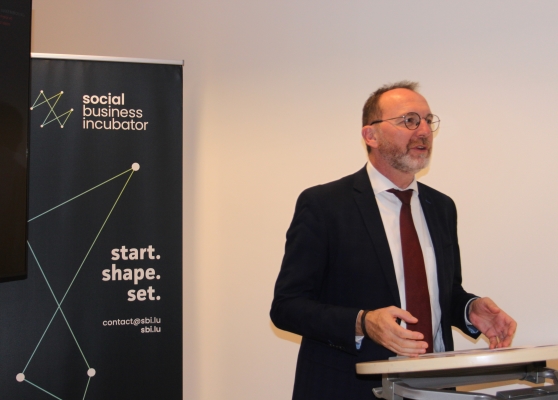 Georges Engel, Minister of Labour, Employment and the Social and Solidarity Economy; Credit: MTEESS
Luxembourg's Department of Social and Solidarity Economy within the Ministry of Labour, with the aim of promoting another approach to entrepreneurship, has announced a whole new strategy within the framework of the promotion and development of the social and solidarity economy sector.
Startups will now be able to benefit from complete and individualised support at the new incubator for societal impact companies, the Social Business Incubator (SBI). Installed for a few weeks in its new premises located in Luxembourg-Kalchesbruck, the new incubator was officially inaugurated on Monday 26 September 2022, in the presence of the Minister of Labour, Employment and the Social and Solidarity Economy, Georges Engel.
In his speech, Minister Engel noted that the social and solidarity economy sector has gained in importance over the past few years. He stressed on the continuation to make efforts to promote the sector and especially the model of the society of societal impact.
Another model for thinking about economy is essential, according to the ministry, especially in the face of the major trends that are looming on the horizon.
For Minister Engel, social entrepreneurs are exemplary representatives of a more sustainable and transparent approach to entrepreneurship while putting the human being at the center of their actions. By creating economic activity as a response to the social and environmental needs of society, they seek to maximise their impacts. Profit is for them a means, not an end in itself, according to Minister Engel.
The concept seeks to support these entrepreneurs by offering them full support from the ideation phase to the formation of the company and obtaining approval as a societal impact company.
By organising individual and collective training, the SBI aims to inform and train social entrepreneurs as much as possible. The exchange between established and budding social entrepreneurs is also a key factor in support.
Minister Engel also announced that the law of 12 December 2016 on the creation of societal impact companies will be subject to an external evaluation in order to better meet the expectations and needs of all stakeholders.
Minister Engel also presented a new portal for the social and solidarity economy, https://economie-sociale-solidaire.public.lu/fr.html. All interested persons will now find essential information about the sector and its players. Minister Engel was convinced that this new portal will, in the short term, increase the visibility of social entrepreneurship in Luxembourg.
Minister Engel concluded that all these strategic elements will help create a favourable environment for the development of the social and solidarity economy sector, a sector with high added value.