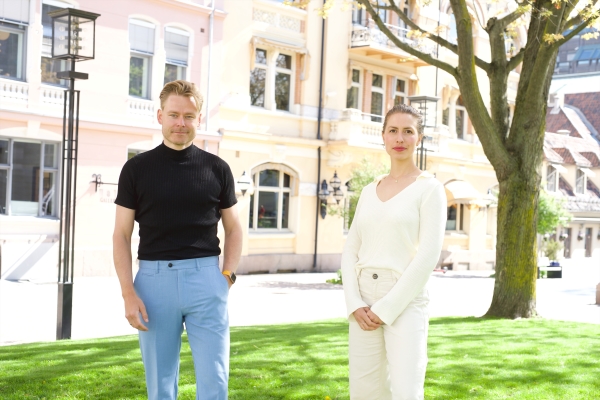 L-R: Jørn Haanæs, Investment Director & Partner at Katapult; Nina Heir, CEO Climate & Partner at Katapult; Credit: Katapult
The International Climate Finance Accelerator (ICFA), a public-private partnership supported by Luxembourg's Ministry of Finance, the Ministry of the Environment, Climate and Sustainable Development and the European Investment Bank (EIB), recently announced its 2022 cohort.
The ICFA 2022 Cohort is composed of five high-impact climate finance fund managers, namely Katapult's Seed Fund, Energy Peace Partners' P-REC Aggregation Fund, Sustainable Links' Middle Market Climate Facility (MMCF), the Olduvai Africa Climate Action Fund and the Incofin Lupuna Fund (Honorary Cohort Member).
Chronicle.lu recently had the opportunity to talk to Jørn Haanæs, Investment Director and Partner at Oslo-based Katapult, one of this year's cohort members, to discuss the significance of being a part of the ICFA 2022 Cohort, as well as investment strategies in impact tech startups and their role in sustainable development and climate.
Chronicle.lu: Could you please introduce Katapult, the Katapult Foundation and Katapult Future Fest?
Jørn Haanæs: Katapult is a global impact investment company, investing in early stage climate tech companies.
We work to build a world in which all humans can thrive. We believe that capital and business can solve the world's grand challenges. Our impact goals are to make impact investing mainstream and to steward exponential technologies to achieve the UN [United Nations] Sustainable Development Goals (SDGs).
We invest in and support early stage impact tech startups, funds and projects, with a mission to solve the world's most pressing problems through the use of exponential technologies. To meet our vision, we lead by example and are creating a movement that other investors are following. Through our investment vehicles (Accelerators and Fund), Katapult Future Fest and Katapult Foundation, we are building the impact investing field and attracting new capital. We are working on catalysing high net worth individuals (HNWI), family offices and foundation capital into impact investing by both giving them opportunities to co-invest and by offering support and education.
We believe that the earlier in the company life-cycle this is made explicit, the greater the chance of positive impact. Active engagement and leveraging all aspects of Katapult supports our investees and cements a multi-stakeholder approach to decision making. We will set the standard for how to operate at the intersection of impact and tech.
Through our focus on Ocean, Climate and Africa we take a holistic approach to solving society's largest challenges. By promoting healthy oceans, a stable climate and sustainable food systems we drive towards building a thriving world for all.
Chronicle.lu: How has the ICFA 2022 accelerator programme helped Katapult to further its goal?
Jørn Haanæs: We are in the early stages of ICFA 2022 but have already met many peers and investors that are highly relevant for our fundraising plans. The quality of insights and networks enable us to operate at a higher level and attract more capital towards climate investments, ultimately empowering entrepreneurs and solving important global problems.
In addition, we are receiving certain financial support in the form of grants and benefits, herein conference participation.
Chronicle.lu: Please tell us more about any government support received to date.
Jørn Haanæs: Katapult is primarily funded by private capital. We have co-invested in a few portfolio companies together with Investinor, a Norwegian government-funded early stage investor. We have received science grants for an ongoing AI [artificial intelligence] project to refine startup selection and dealflow process, with the goal of extending our reach and making sure we don't miss out on interesting companies because of individual and / or organisational bias and more. We have also received a large grant to finance our Katapult Africa operation in Rwanda, where we are about to start an accelerator programme.
Chronicle.lu: What are the main reasons for Katapult to focus on Ocean, Climate and Africa?
Jørn Haanæs: Since 2017, Katapult has made 115 investments as part of our accelerator programmes. More than half of these are connected to climate action and we decided in 2020 to focus our attention towards Climate, Ocean and Africa as three verticals where we can offer unique value in the market.
For Katapult, it's quite simple: climate change is real and it's profitable to fix it. We believe the green transition is both the biggest investment opportunity and the most important challenge to overcome in the coming decade. That's why all of our investments are connected to climate action.
You can't invest in climate without considering the oceans. Katapult is the world's most active early stage ocean investor and our deep expertise in the field grants us access to a global ecosystem of ocean advocates. Similarly, Africa holds the key for many goals in the UN seventeen Sustainable Development Goals. Our food and agritech investments in the region will play a crucial role in accelerating green growth across the continent.
Chronicle.lu: What are the selection criteria for projects and initiatives financially supported by Katapult?
Jørn Haanæs: We are early stage investors, typically looking at pre-seed / seed in our accelerators and further into series A / B with our follow-on fund.
For our accelerator investments, we look at financial and impact returns as equally important and fundamentally connected. Or to put it differently: if a company's financial and impact returns aren't moving together then it's not a company for us.
We typically invest €150,000 to €500,000 into companies with exceptional founders and promising commercial traction. Most will have a product in the market, but some are still in the earlier stages of proving technology readiness.
Chronicle.lu: Could you tell us more about the "Esusu" and "Betterfly" projects?
Jørn Haanæs: Esusu and Betterfly are our two accelerator unicorns and best performing portfolio companies.
We invested in Esusu in 2018 and Betterfly in 2019, and made follow-on investments into both companies in 2019 and 2020 respectively. This follows our strategy of investing in the best seed startups we can find, working closely with the founders in our award-winning accelerator programme, monitoring metrics and then following on in the best performing teams. This strategy has been very successful so far and we intend to continue with the same framework.
Unicorns are rare, but they are the outliers that we chase. It's what makes the venture model extremely profitable in great outcomes. Impact unicorns like these are even better, because their impact scales with their growth. We are proud to back founders that stick with their vision in good and bad times.
Chronicle.lu: What are the main reasons to focus on high net worth individuals (HNWIs) and family offices as your potential co-investors?
Jørn Haanæs: Much of our early investor base comes from HNWI and family offices. These investors are often passionate about solving particular problems, interested in the startup and venture capital ecosystem, quick to make decisions and valuable in contributing to the community. Especially for the younger generation of family offices, we've seen increased interest in climate tech. Not only is this a good cause, but also it is protecting wealth by investing in growth areas. We are happy to continue working closely with these investors.
Chronicle.lu: How many assets under management (AuM) does Katapult currently have? What are your future expectations?
Jørn Haanæs: Katapult currently manages ten funds and we expect to reach €1 billion AuM within the next decade, but more importantly we will have been instrumental in funding hundreds of seed stage ventures solving the world's most important problems.
Chronicle.lu: How did the COVID-19 pandemic affect Katapult in terms of its fundraising and distribution efforts?
Jørn Haanæs: We welcomed our 2020 cohort in Oslo on 9 March, days before lockdown hit Norway. Suddenly, all founders had to return to their home countries and we were forced to create a digital accelerator programme in record time. It was an intense experiment, but we learned that it was actually more valuable for the founders and investors to do things digitally! So many things could be built from scratch to better serve our community, and so we did. The 2021 programme was digital and remote by design, and we have continued to improve on the same strategy this year. We won't go back. We do however LOVE meeting people and believe in the value of in-person activities, and our annual Katapult Future Fest is a testament to that. We will continue to create exceptional in-person experiences alongside the world's best seed stage accelerator programme - digitally delivered so we can be more inclusive and efficient.
Chronicle.lu: What have been the main challenges so far in terms of investments across 145 companies in 37 different countries?
Jørn Haanæs: There's an obvious challenge in a portfolio that grows this fast, adding approximately 40 companies in 2022. We strive to build products that scale with our increasing portfolio, most importantly our Katapult Alumni programme. This is designed to make the most out of our unique global network of impact entrepreneurs and to make sure we add value to our portfolio.
As far as the legal exposure across so many countries - yes, it's a risk but we consider the risk of being underexposed to global seed stage ventures to be much higher. There are excellent opportunities to be found irrespective of location, and so we're agnostic on [geographical location]. We are all about maximising upside before limiting downside.
Chronicle.lu: What are the next major goals for Katapult in terms of sustainable development?
Jørn Haanæs: Everyone's talking about net zero, about decarbonising the economy, about the green shift. Most don't have a clue how to get there. We believe startups and venture capital play a crucial role in experimenting, executing and scaling on ideas that matter and founders that get the job done. If you want innovation, you have to build an entrepreneurial ecosystem. It's the only way we're going to get to a liveable future.