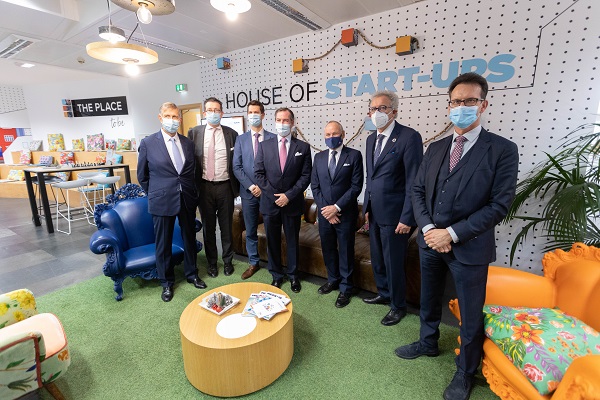 Credit: House of Startups
On Friday 3 December 2021, His Royal Highness the Hereditary Grand Duke of Luxembourg undertook an official visit to the House of Startups, an innovation campus launched by the Luxembourg Chamber of Commerce in 2018.
Prince Guillaume was received by Carlo Thill, President of the House of Startups, Fernand Ernster, Vice-President of the Luxembourg Chamber of Commerce, Carlo Thelen, Director General of the Luxembourg Chamber of Commerce, and Maurice Bauer, alderman of the City of Luxembourg.
In his welcome speech, Philippe Linster, CEO of the House of Startups, expressed his delight at being able to "bring together for this occasion the founding members of the House of Startups project, namely the Luxembourg Chamber of Commerce and its various partners". Receiving the Hereditary Grand Duke a little more than three years after the inauguration in the presence of their Royal Highnesses the Grand Duke and the Grand Duchess, was for him "a strong signal of the current and future commitment of the [Grand Ducal] Court to support the development of innovation and entrepreneurship in Luxembourg".
Carlo Thill was particularly proud that the House of Startups today brings together more than 150 startups from diverse sectors, despite a crisis that is proving difficult for some innovative startups. For him, the House of Startups represents one of the main players in the development of the "Startup Nation" in Luxembourg.
The visit itself began with the Luxembourg-City Incubator, founded by the Chamber of Commerce in partnership with the City of Luxembourg, presenting its acceleration programme and its missions presented by its manager Bastien Berg and Luxembourg City alderman Maurice Bauer. Prince Guillaume was particularly interested in the "pitches" of the startups Salonkee and GAMMA AR who introduced their projects and answered his questions. The Hereditary Grand Duke went on to sign the totem pole in the co-working space, thus leaving his mark alongside those of his parents, the Grand Duke and the Grand Duchess, a few years earlier.
The programme also included a meeting with Alipay, an electronic payments company derived from the Alibaba group, an exchange with Amélie Madinier, CEO of the Village by CA, and a presentation of the startup ANote Music, hosted at the Village by CA.
Accompanied by Pierre Gramegna, Luxembourg's Minister of Finance and the founder of the Luxembourg House of Financial Technology (LHoFT), and Nasir Zubairi, CEO of LHoFT, the Hereditary Grand Duke visited the spaces of the flagship of the "Fintech made in Luxembourg". After listening to the startups Satispay and Tokeny, the Finance Minister and Prince Guillaume said they were "very satisfied that so many promising Fintechs have joined LHoFT and have capitalised on its network developed for their European expansion".
This royal visit was placed under the seal of innovation, digitalisation and economic resilience that Luxembourg has demonstrated over the course of economic developments. It aimed to encourage innovative entrepreneurs and the startup ecosystem, represented by the House of Startups, to continue to grow.