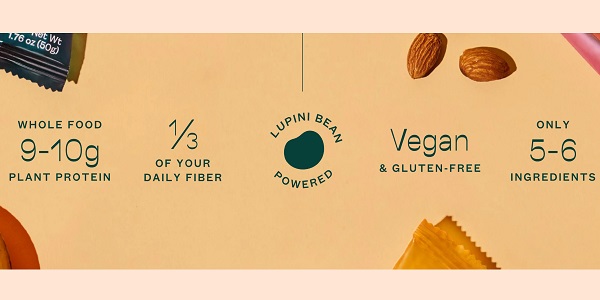 Credit: getlupii.com
As reported in Silicon Luxembourg, Lupii, a New York-based startup co-founded by Luxembourg-born Isabelle Steichen, has raised $150,000 in a crowdfunding campaign.
Lupii offers customers vegan, on-the-go snack bars based on the Lupini bean. The plant-based startup's recent crowdfunding campaign attracted support from more than 400 investors in the space of a few weeks.
CEO Isabelle Steichen, who grew up in Luxembourg before moving to the United States (US), co-founded Lupii in New York in 2019 with Alexandra Dempster, who previously served as Global Marketing Manager at PepsiCo. Their shared passion for plant-based eating motivated them to launch Lupii in New York in 2019.
Things got off to a challenging start for Lupii, with the COVID-19 pandemic happening just a few weeks after its launch. The original plan was to focus on retail and in-store product availability, but the pandemic meant they had to quickly take everything online. This impacted their strategy, from product to packaging and marketing. However, the pandemic led to the team being able to gather more data on consumption and get direct feedback from their customers.
Lupini beans, the key ingredient in Lupii's products, are already well-loved in Mediterranean countries. When asked why they chose the US market for their launch, Isabelle Steichen told Silicon Luxembourg that consumption habits (focus on protein, functional eating habits, etc.) in the US market make it uniquely positioned for their product. The Lupini bean is a complete protein which means it contains all nine of the essential amino acids required by humansneed. It is also easily digested by the human body.
Discussing the crowdfunding campaign, Ms Steichen said: "[W]hile we are already backed by venture capital [New York-based Human Ventures], most channels of investing can make it difficult for our actual customers to invest in Lupii. Through this crowdfunding campaign, we wanted to provide access to our customers, friends and family who can now invest in Lupii, grow with us and be part of this journey".
The team plans to use the funds they have raised to invest in retail by focusing on key partnerships for in-store product placement, promotions and demonstrations. They are also considering adding new flavours to their product offering. Lupii also hopes to launch other products such as crisps by 2022.
This information is based on an article on Silicon Luxembourg.