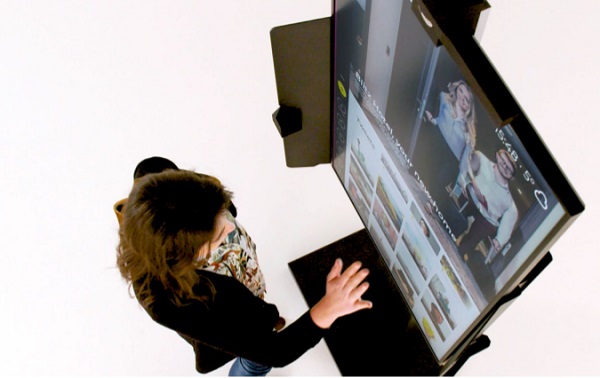 iNUI Studio, a company based in Luxembourg's Technoport in Foetz, has announced its partnership with Samsung Electronics France.
In the context of the COVID-19 pandemic, iNUI Studio developed AIR TOUCH®, a technology based on the recognition of gestures without contact. Now, the company has joined forces with Samsung Electronics France to introduce AIRxTOUCH® KIOSK SERIES 2.
This touchless interactive kiosk solution offers the same experience as a touch device except for the fact that the user does not have to touch the screen to use it; he / she need only move a few centimetres from the display to navigate precisely through the various menus. This solution therefore offers an advantage from a sanitary point of view.
To design this solution, iNUI Studio combined a Samsung 55" 4K screen (the QH55) in a metal stand with AIR TOUCH® optical sensors and a powerful processor. The SERIES 2 is robust, more compact and 82% faster than the previous generation.
Due to its nature and the uses it allows, the AIRxTOUCH® KIOSK SERIES 2 is particularly suitable for hotels, fast food restaurants, transportation and, more generally, any space welcoming the public.
Based on powerful proprietary image processing algorithms, the patented AIR TOUCH® technology delivers exceptional mid-air interaction (5cm from the screen) and a complete user experience. Allowing click, double-click, drag & drop, slide, zoom interactions (with a precision of 3mm), AIR TOUCH® is deemed as easy to use as a conventional touch device.