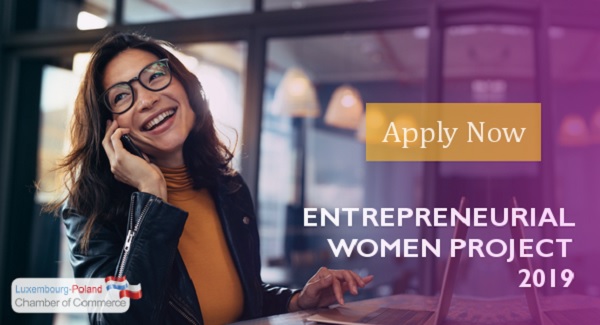 The Ireland Luxembourg Chamber of Commerce (ILCC) is committing to supporting the Luxembourg-Poland Chamber of Commerce (LPCC) in their "Entrepreneurial Women Project" initiative. This is in its sixth year, with the first class on 28 September.
The collaboration will see the Irish chamber support the initiative over a two-year period, offering a prize worth €1,000 both this year and next.
Polish Chamber chairman, Artur Sosna, stated "We are delighted to have the Irish Chamber on board as a partner in our flagship event which encourages and promotes female entrepreneurship. Thanks to the strong partnership we will attract even more women with excellent entrepreneurial ideas! This is finally our main goal: make Luxembourg an attractive place for starting own business. Nevertheless, a good preparation is essential! That is why we offer around 50 hours training to women of all nationalities!"
In confirming the cross-chamber support, Irish Chamber chairman, Joe Huggard, stated "The Irish Chamber has held its own Innovation Contest and Pitching Competition for a few years with great success. We recognise the depth of ideas out there and want to continue our support of entrepreneurship and we decided it would make sense to join forces and support the work of our friends at the Polish Chamber. We were particularly impressed by the practical nature of the project and its well-defined objectives. We are delighted to be part of this proven initiative".
The "Entrepreneurial Women Project" encourages women to create their own business by coaching them in various aspects of business, from company administration and licences and VAT, all the way through to branding and marketing, with the participants attending a cycle of workshops on Saturdays, with the graduation event scheduled for 12 November 2019. Prizes will be awarded to the most convincing business plans produced during the course, and presentations. The top three will be invited to pitch their business ideas at the graduation event where the winners will be announced.
Registration closes on 15 September – see www.lpcc.lu for details.