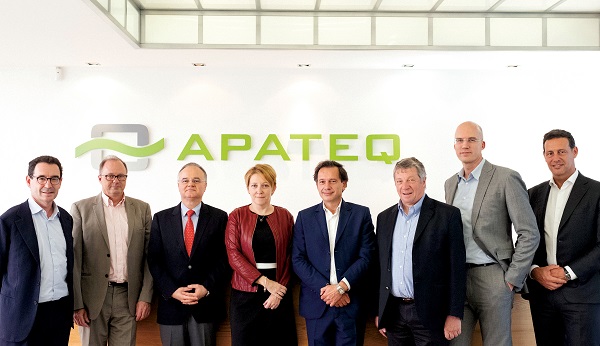 HLD invests in APATEQ;
HLD Europe has confirmed that it has made an investment in APATEQ, a company specialised in water purification and a key CleanTech company based in Luxembourg; the private equity fund makes its first investment in Luxembourg, becoming a shareholder of APATEQ.
After the acquisition of Kiloutou, Lazartigue, Rafaut, AEds and BBO in recent months, HLD Europe has also invested in APATEQ.
APATEQ is a Luxembourg based company founded in 2013 and specialised in the purification of water. The company, with a 2-hectare production site close to Luxembourg airport, designs and manufactures its equipment, using proven membrane technologies. These state-of-the-art techniques are used for the treatment of water in the oil and gas extraction by hydraulic fragmentation, separating oil and water; but also, more recently, for the treatment of "scrub waters", resulting from the washing process of the exhaust gases of large vessels. The company has known a spectacular development and grown from a turnover of 2 to 30 M€ in 2018.
The reduction of polluting emissions from vessels, a major development axis of APATEQ
In order to reduce the polluting emissions generated in the maritime business, the International Maritime Organization (IMO) has set new rules regulating sulphur emissions in maritime transportation. As of January 2020, all ships in the world will have to meet the threshold of a maximum of 0,5% sulphur content (against 3.5% today in the least regulated areas), calling for specific measures to achieve these objectives.
The Luxembourg Cleantech APATEQ has made a decisive step in this opportunity market by developing the technology allowing the on-board treatment of the water from "scrubbers", or "exhaust cleaners": big filters arranged at the exit of the chimneys which filter the exhaust gases, eliminating until 90% of the sulphur oxides and fine particles of exhaust gases. This development perspective, among others, allows APATEQ to take a promising future into consideration.
"Our teams have a perfect command of the technical know-how of our business and know how to adapt to the diversity of our clients' problems. We now need a partner specialising in business development, and we are confident that HLD Europe's entry into our Board of Directors will allow us to begin the challenges of tomorrow in a completely confident way." said Bogdan Serban, CEO and co-founder of APATEQ.
A coherent investment for HLD Europe
Specialised in private equity, HLD invests in the capital of European companies in all sectors of activity, supporting entrepreneurs willing to develop their business by organic or external growth in order improve their operational performance. The investment in APATEQ is fully consistent not only with the fund's strategy, targeting companies with high growth potential, but also with its values and ESG involvement.
"Sustainable finance is important to us, and the opportunity to support a Luxembourg company that is particularly influential in the CleanTech market is a great achievement for HLD Europe", explained Anne Canel, HLD Managing Director and also co-chair of the LPEA ESG Commission.
Robert Dennewald, Independent Director of HLD Europe and Chairman of the Board of APATEQ, put the two entities in contact. "We have been keen to invest in Luxembourg for several years and are happy to transform this wish with APATEQ, which is a true national and international success story" he stated.