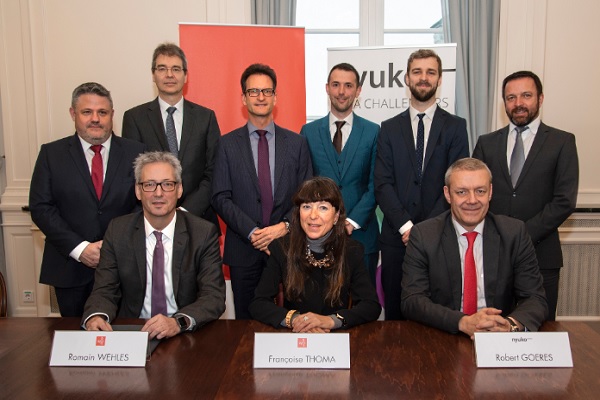 The nyuko ideas challenger have signed a partnership with the Banque et Caisse d'Épargne de l'État (BCEE or Spuerkeess) to better support project leaders.
The leaders of Nyuko and the BCEE today signed this exclusive partnership in the bank's premises. For nyuko, this signature completes a process of change initiated with the appointment of a new CEO, Nicolas Fries, at the head of the association. The current main sponsors of nyuko, the Chamber of Commerce and the Ministry of Economy have voiced their support for this reorientation.
Last August, following the departure of Martin Guérin for the Luxembourg City Incubator, nyuko benefited from a restructuring to better focus on its initial vision: promote entrepreneurship and business creation. In this context, the main missions of the nyuko team are now to challenge the ideas of entrepreneurs and support them in the validation of their project and its feasibility, as well as foster the emergence of new companies.
Nicolas Fries has explained: "When I accepted the position, I wanted to adapt the nyuko strategy to the evolution of Luxembourg's entrepreneurial ecosystem, which has greatly expanded over the past three years. In my opinion, we had to position ourselves as the challenger of ideas for entrepreneurs in Luxembourg, whether they were innovative or more 'traditional' projects."
These services are free and open to all types of entrepreneurs. The offer is aimed at leaders of a business project in pre-creation phase and offers support until the launch of the company. The non-profit organisation maintains the Impuls programme, targeting projects with a positive impact. All programmes include group and co-development workshops, as well as individual coaching.
To accompany nyuko in this new adventure, Karin Schintgen, CEO of the House of Startups, passed the torch to a new president: Robert Goeres. This reorganisation is also echoed by the new main partner and sponsor of the association: the BCEE. Already involved at several levels in supporting entrepreneurship, the bank wanted to strengthen its action by forming this partnership. In addition to a financial contribution, the bank is offering its expertise and access to banking products and services that will enable nyuko to better mentor budding entrepreneurs. For their part, the banking advisors will be able to offer the services of nyuko as an added value to their clients.