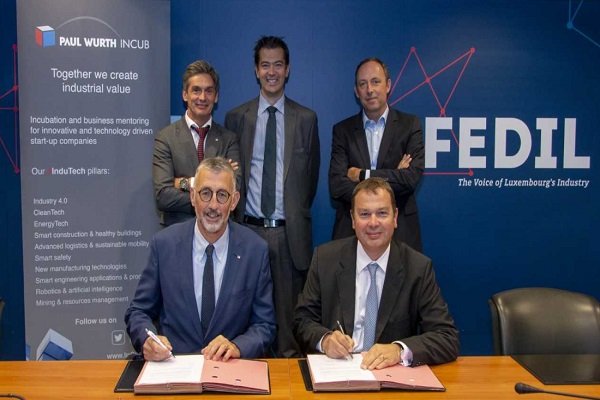 Credit: Paul Wurth InCub, FEDIL
FEDIL - The Voice of Luxembourg's Industry and Paul Wurth InCub today signed a partnership agreement aimed at supporting the development of "Industrial Technologies", so-called InduTech, in Luxembourg.
In line with its commitment to make the Luxembourg industry thrive by attracting and developing innovative talents, FEDIL is supporting the business incubator Paul Wurth InCub, specialised in accompanying so-called "InduTech" or Industrial Technologies projects. This sector encompasses companies, whose activity is focused on innovative solutions applied to industry, reaching from industry 4.0 (internet of things, big data, cloud…) to Clean Tech (water treatment, recovery of industrial or chemical by-products…) or robotics and smart energy management.
The partnership consists in combining the expertise of Paul Wurth with FEDIL's network of industrial players in order to provide the Luxembourgish industrials with an easy access to "InduTech" start-ups, and vice versa, globally resulting in a targeted and quick match-making between the offer and real needs.
René Winkin, director of FEDIL, commented on the partnership: "Thanks to this cooperation, FEDIL will be able to enlarge its service offer in the field of innovation to its members of the industrial sector".
This partnership logically results from the common desire to create in Luxembourg an InduTech ecosystem, whose mission is to support the FEDIL members in their innovation projects. Among other initiatives, the organisation of "InduTech meetups" shall allow the exchange of experiences between each industrial player affiliated to FEDIL and start-ups, which are active in a previously identified domain.