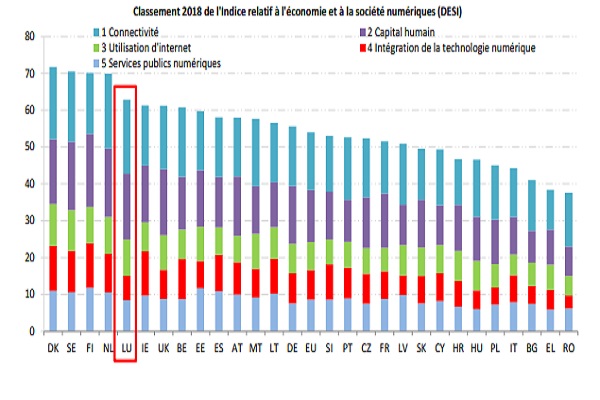 Credit: European Commission, DESI 2018
Luxembourg has once again confirmed its place at the head of the digital world in Europe, ranking in fifth position in the EU DESI index.
On 18 May 2018, the European Commission published its annual DESI report, the European index that measures the performance of the digital economy and society of the European Union.
Luxembourg has confirmed its ranking in fifth position and has even been able to slightly improve its rating since last year, doing so in a very competitive context. Luxembourg is thus among the group of the best performing countries in the European Union in terms of digital progress, behind the Scandinavian countries (Denmark, Sweden, Finland) and the Netherlands.
Among its strong points, the Grand Duchy placed 2nd in the DESI 2018 for communication infrastructures and 5th for human capital, as well as ranking 1st place for digital skills. Despite these very good results, the report again illustrated the challenge of finding specialised resources to meet new needs.
Nevertheless, in the field where Luxembourg has always lagged behind, namely digital public services (17th place DESI 2018), the country has advanced three places thanks to the policy of Open Data launched by the government, as well as the increase of pre-completed forms available and the use of online services offered through the platform guichet.lu.
While the use of the Internet by individuals remained high (4th place in the DESI 2018), the digital switchover by companies (22nd place in the DESI 2018) remained below the European average for e-business and even more so for e-commerce. Programmes such as Luxinnovation's Fit 4 Digital or Go Digital recently launched by the House of Entrepreneurship aim to encourage and support Luxembourg SMEs in this challenge.
In order to seize all the opportunities presented by digitalisation, it is thus a question of continuing the positive dynamic and the efforts made to prepare the country for this acceleration and to support the digital transformation at all levels.