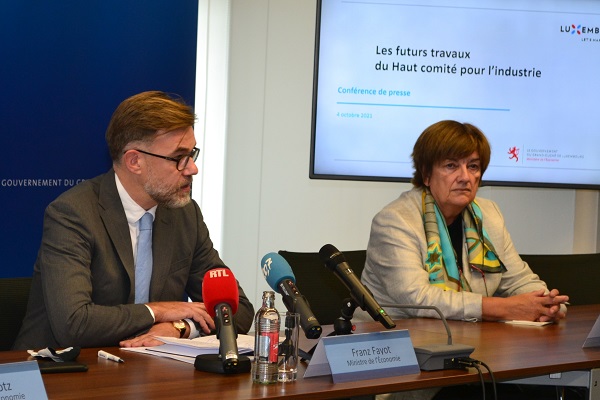 L-R: Franz Fayot, Luxembourg's Minister of the Economy; Michèle Detaille, President of FEDIL; Credit: MECO
On Monday 4 October 2021, Luxembourg's Minister of the Economy, Franz Fayot, presented the future tasks of the High Committee for Industry (Haut-Comité pour l'industrie) in the context of the sustainable transition of this sector in the Grand Duchy.
Established in 2013 to guide and coordinate government choices and actions affecting the industrial sector in Luxembourg, the High Committee for Industry met last Friday under the chairmanship of Economy Minister Franz Fayot.
As part of the Rifkin study of the third industrial revolution, the High Committee had taken on the function of a thematic platform working on the transposition of key measures. The committee is now resuming its initial function and has just launched the work which relates in particular to the development of the manufacturing industry in Luxembourg by 2040, as well as to climate objectives and the trend towards circular business models in industry.
At Friday's meeting, the Economy Minister and industry representatives presented four key themes aimed at anchoring a competitive, resilient and sustainable industry in Luxembourg. Several working groups have been set up to address these themes. These working groups will report to the High Committee for Industry, which is ultimately responsible for formulating recommendations and developing action plans related to industrial issues.
The four themes are: industry and climate; Luxembourg's industrial fabric by 2040; the transition to a circular economy; the management of economic activity zones.
Minister Franz Fayot commented: "In the rapidly changing economic environment and in the face of environmental and competitiveness challenges, it is essential to think collaboratively about the industry of tomorrow. In this period of transition, the High Committee for Industry is the ideal platform for consulting and coordinating on this subject with industrial companies. The work started within the committee makes it possible to identify the levers of action and define an effective implementation strategy to achieve our dual objective of climate neutrality and competitiveness".
FEDIL President Michèle Detaille added: "We are delighted with the initiative taken by the Minister of the Economy to relaunch the High Committee. There is no shortage of subjects and we, the industrialists invited to the table, do not come empty-handed since we have already considered the major subjects on the agenda and we have constructive proposals to submit to government representatives. We expect a very constructive dialogue and we have confidence in the Minister of the Economy to support and defend the conclusions of the High Committee within the government".