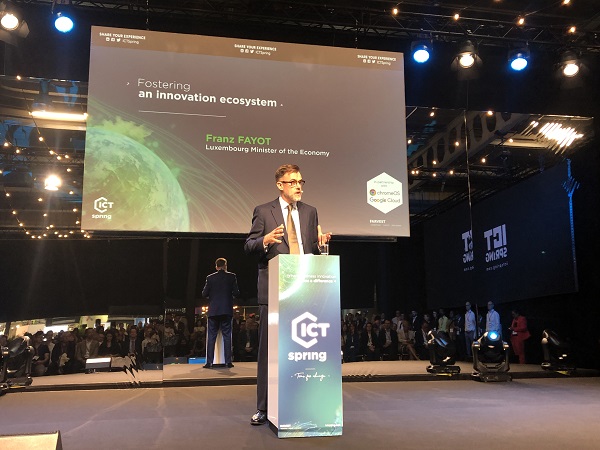 Franz Fayot, Luxembourg's Minister of the Economy; Credit: Otilia Dragan/Chronicle.lu
This year's edition of ICT Spring, the two-day international tech conference organised by Farvest, kicked off on Thursday 29 June 2023 at Luxexpo The Box in Luxembourg-Kirchberg.
The event has officially been recognised as a Greater Region event and has received the Green Business Event label.
The event features conferences, immersive experiences, an exhibition, networking and meetings with various personalities. It features specific side events, including: the Cybersecurity Week - Spring edition in collaboration with the Luxembourg House of Cybersecurity (LHC), LHoFT's FinTech extra session, Mastermind Challenge pitching sessions, ICT Spring TV Show, dedicated programmes on exhibitors' demo area (PwC, Luxinnovation, Luxembourg Chamber of Commerce, LHC) and workshops delivered by Gulliver, LHC, Lux-ICTS. In addition, ICT Spring is set to feature the Ukrainian Pavilion, with ten Ukrainian startups, pre-selected by The TechUkraine and the Ukrainian Startup Fund.
The ICT Spring event aims to serve as a platform for showcasing technological innovations, promoting international collaborations, and driving forward the tech industry's growth. This year's tech conference features over 200 speakers.
On Thursday morning, Carlo Thelen, Director General at the Luxembourg Chamber of Commerce, delivered an introductory speech entitled "Digitalisation: your journey to a sustainable future", which started with a modified take on Shakespeare's famous soliloquy "To Be or Not to Be", creatively co-edited and modified into a speech about AI with the help of ChatGPT.
Carlo Thelen then discussed some potential dangers that AI may present, such as the ability to impersonate political leaders online and create harm, including damage to the economy and its actors. On the other hand, he pointed out that "new levels of economic growth are within reach" thanks to this new technology and that is should, thus, not be nipped in the bud. He warned against a potential "regulatory straightjacket" and called for more support and care to ensure that this new tool may serve companies and reinvigorate Luxembourg's financial capacities which have "dried up" since the last years' crises.
In his official speech, Luxembourg's Minister of the Economy, Franz Fayot, said he was intrigued by this year's ICT Spring motto "Time for change", noting that the world and globalisation today have indeed changed since he came into office in 2020. He noted having witnessed the "dramatic effects" of climate change in the southern hemisphere on his frequent working visits abroad, and stressed that those effects feed into other issues, constituting a major challenge for humanity. Change today, Minister Fayot stressed, is also about the climate crisis and the crisis of biodiversity, challenges for humanity "deepening inequality across our society". The minister went on to discuss his recent trip to California, where he became keenly aware that this new technology constitutes "a turning point". He expressed his trust that "this community can help find solutions" and that generative AI and its recent exponential growth has "huge potential in helping us power change". In this context, he recalled the need to use and promote AI in a "virtuous" and "civilised" manner in compliance with "human rights" and "privacy rights". The minister also highlighted that Luxembourg can become a hub for tech startups to "find a home in Europe and deploy to European markets". He pointed out the Grand Duchy's plans to build a Cloud operator and the country's interest in strong cybersecurity (recalling a new infrastructure launched just last week).
Next on the programme was an interview with John Acunto, Chief Executive Officer and Co-Founder of Infinite Reality, and Jenny Hällen Hedberg, Head of International Relations at Luxinnovation. They discussed "Metaverse, AI and the future of immersive tech", and introduced Infinite Reality, a company aiming to offer metaverse experiences, giving their clients a digital space for their brand to be able to interact with their audience and potential users in an interactive, remote way. The process is based on the use of Zoom to create an avatar as "an extension" of the person and to give people the possibility to communicate in real time on the internet.
John Acunto named Luxembourg the "natural home of the metaverse", pointing out the country's ability to provide this kind of service and pointing out the interest it could have for creators and companies. "We want creativity and innovation in the hands of innovators and creators," he noted, and he showcased some potential uses for this technology in simulation videos e.g. decorating a space in the metaverse or getting information about a particular car model.
ICT Spring will continue on Friday 30 June 2023. The full programme is available at: https://www.ictspring.com/programme/the-programme/.