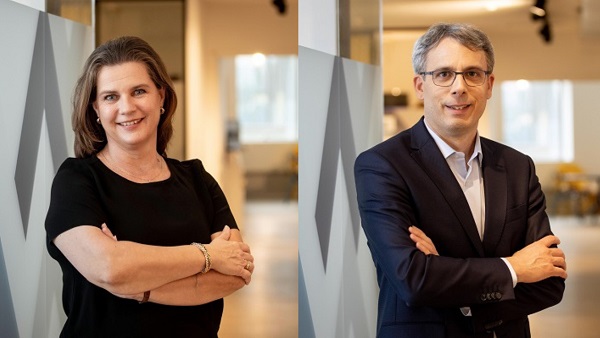 L-R: Geraldine Knudson, CEO of MyConnectivity; Eric Krier, Head of Unit at SMC and President of MyConnectivity Board; Credit: Marie De Decker
Chronicle.lu recently reached out to Eric Krier, Head of Unit at the Department of Media, Connectivity and Digital Policy (SMC; within Luxembourg's Ministry of State) and President of the Board of MyConnectivity, and Geraldine Knudson, CEO of MyConnectivity, to learn more about the objectives of the economic interest group MyConnectivity and specifically its role in implementing Luxembourg's 5G and ultra-high-speed broadband strategies.
The official launch of MyConnectivity, which was set up as an economic interest group in December 2021, took place during the Luxembourg Internet Days 2022 event last November.
Chronicle.lu: Please introduce us to MyConnectivity and its main objectives. Please tell us a bit more about your role(s) within MyConnectivity and your team.
Eric Krier: MyConnectivity is a GIE [groupement d'intérêt économique, i.e. economic interest group] formed between the Luxembourgish state (State Ministry, SMC) and LU-CIX, Luxembourg's national internet exchange point. MyConnectivity's mission is to support and execute the Government's strategies for the roll-out of ultra-high-speed connectivity (fixed and mobile).
Geraldine Knudson: We are talking about the roll-out of fibre, cable and 5G. In more detail, we are there to help eliminate white spots (areas without any coverage), motivate citizens and businesses to adopt the new, future-proof technologies, increase consumer protection and – in doing so – contribute to the promotion of Luxembourg as hub for ICT services.
We are a small team of experts with telecom technology and communication backgrounds.
Chronicle.lu: With telecom networks reaching up to 99% of Luxembourg territory with 4G or 4G+ network, what are the main reasons to adopt and implement 5G to further improve telecommunications connectivity?
Eric Krier: Like for previous generations of mobile communication, 4G and 4G+ networks begin to also reach their maximum capacity during peak times at certain high traffic locations. It is important to be aware that over the past decades, both the number of devices (from citizens and from businesses) and the amount of data that they exchange over a mobile network continued to increase. Every two years, the data traffic doubles on mobile networks.
In order to meet the demand of customers, the network operators anticipate the future performance of their networks. Further developments therefore naturally merged into the birth of the next generation, 5G. Data shows that 5G is able to transmit these higher amounts of mobile data in a more efficient way than previous generations. Once fully deployed, 5G promises the transmission of more data in shorter periods of time, but also lower response times (latency) if users use mobile digital services and tools. 5G also allows a more energy-efficient transmission of mobile date, meaning that the same amount of data sent over a 4G network would require a higher amount of energy (electricity).
Chronicle.lu: Since 2020, 5G technology is available in certain areas in Luxembourg. What will be the role of MyConnectivity in further implementing 5G across Luxembourg and is there any specific goal set in terms of coverage?
Eric Krier: The SMC launched two calls for projects out of which eleven pilot projects are currently ongoing. These pilots are in a diverse set of areas, among which: eHealth, smart communities, Fixed Wireless Access, Internet of Things (IoT), EMF research and awareness raising. MyConnectivity, while getting in touch with many stakeholders, will relay this information to the SMC to feed into the follow-up of the national 5G strategy. The operators who were allocated spectrum for operating a 5G network signed up to specific coverage obligations. The network operators have to reach a national coverage by 2025. The national regulator (ILR) is doing the follow up of those licence obligations.
Chronicle.lu: In terms of ultra-high-speed broadband communications, what are the short- and medium-term goals and challenges for MyConnectivity?
Geraldine Knudson: MyConnectivity has essentially four areas of activity or pillars, as we call them:
we pull together market intelligence and make it available to all stakeholders to have everyone on one page regarding the dimensions of the challenges;
we gather all relevant players for dialogue and exchange in different forums and working groups to exchange and find better solutions;
we help to remove technical barriers - here I would like to give an example: we realise that a large portion of potential users who still cannot subscribe to ultra-high-speed services. Why? Because their building has cable or fibre connectivity but is missing vertical cabling. That means that super-fast connectivity is available in the cellar but not on the floors. Together with telco operators, housing managers, the real estate industry, professional chambers and many more, we are looking to find solutions, by proposing toolkits for those who commission or do installations, by raising awareness and by exchanging best practice;
and finally, we promote the use of future-proof technologies to all users (private and business) through our communication activities.
Chronicle.lu: In regard to ultra-high-speed broadband communications, how does the Luxembourg Internet Exchange (LU-CIX) participate in MyConnectivity's strategy?
Eric Krier: For the SMC, LU-CIX has been a partner of choice for setting up MyConnectivity. They are running the internet exchange node of Luxembourg. Through the infrastructure of LU-CIX, telecom providers, data centres and content or digital tool providers are directly interconnected in an efficient way, so that data does not always have to be routed via nodes or servers that are far abroad. While LU-CIX is not laying the digital infrastructure through the trenches and buildings, LU-CIX hugely contributes to a lower latency/quicker delivery of digital content that is handled or hosted in Luxembourg. Through their various public and semi-public and private members, they feed in with valuable expertise from the ecosystem.
Chronicle.lu: Is there currently (or are there plans for) a priority list with set goals within the household sector and the business sector, respectively? If so, which sectors will be of immediate focus and what is expected to be achieved in the next couple of years?
Geraldine Knudson: MyConnectivity talks to households and businesses alike. Regarding households, we are mostly interested in those who could potentially subscribe to ultra-high-speed connectivity (UHD) but don't (which is the case for about 40% of the households). As for the business side, we realised by looking at the numbers that the ILR puts together, that the large businesses have no problem with connectivity. Many of them have leased lines and are well supported by IT specialists. The smaller businesses are more of a concern, as they often don't have ultra-high-speed connectivity, respectively they don't subscribe to services, which provide them with adequate cybersecurity or service continuity.
Chronicle.lu: Do you see any limitations in terms of skills and/or resources? If yes, which are the short- to medium-term challenges?
Eric Krier: In the frame of the 5G strategy, the feedback from the mobile network operators showed that the European-wide shortage of skilled resources is also affecting the deployment of digital infrastructure. But despite a pandemic and even with some turbulences in the production and the supply chain of electronic components, I think that Luxembourg proved to be able to progress well in the roll-out of its infrastructure. Regarding 5G, Luxembourgish mobile networks are well-positioned in Europe. Through the Digital Jobs and Skills Coalition, the SMC has been able to bring many stakeholders around the table, e.g. in offering workshops for upcoming technicians and engineers. These efforts certainly will have to continue.