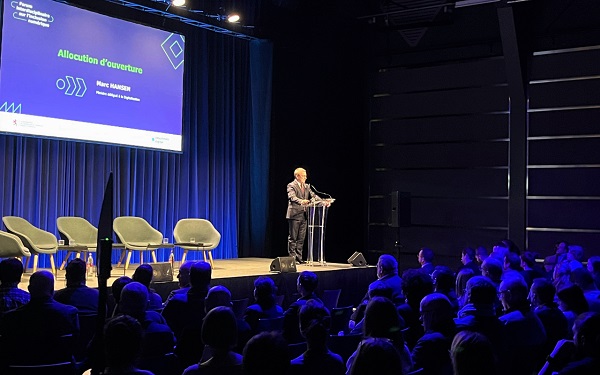 Marc Hansen, Luxembourg's Minister Delegate for Digitalisation; Credit: MinDigital
On Thursday 1 December 2022, Marc Hansen, Luxembourg's Minister Delegate for Digitalisation, inaugurated the Grand Duchy's first interdisciplinary forum for digital inclusion, at Alen Tramsschapp in Luxembourg-Limpertsberg.
This first forum was deemed a success, bringing together more than 120 representatives of associations and organisations whose target audiences are potentially confronted with a certain digital exclusion. This large audience of people from various backgrounds attended a round table on "The digital society of the future. How to include all citizens in the digital transformation?".
On stage, personalities debated two specific subjects, namely the means of facilitating and equipping the partnership dynamic for the actors of digital inclusion, as well as ways to integrate digital technology into support and social action. The participants were Ginette Jones, president of the Entente des offices sociale asbl, Alain Brever, director of GERO asbl, Olivier Grüneisen, director of Info-Handicap asbl, and Patrick de la Hamette, director of Digital Inclusion asbl.
The interdisciplinary forum for digital inclusion (Forum interdisciplinaire pour l'inclusion numérique) is one of the 40 initiatives of the national action plan for digital inclusion, in the development of which many organisations present on Thursday also participated. The forum fits more precisely into the first strategic lever of the action plan, namely to "increase motivation and create digital confidence". It is planned to meet in the future on a biannual basis in order to debate and jointly advance the digital inclusion of all.
In his inaugural speech, Marc Hansen reiterated once again how important it is to adopt an inclusive and cross-sectoral approach to succeed in countering a digital divide in society: "This forum offers all stakeholders a platform to exchange and collaborate constructively in order to achieve the digital inclusion of all citizens".