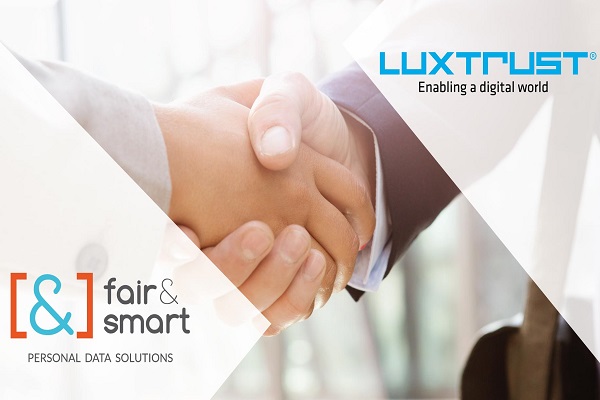 LuxTrust S.A. and fair&smart SAS recently signed a multi-year partnership agreement concerning consent management.
Under the terms of this agreement, LuxTrust will obtain the exclusive distribution of the Right Consents management solution from fair&smart on the Luxembourg and Belgian markets. The solution will also be integrated into the IDKEEP personal data exchange platform, ready to be launched by LuxTrust in 2021.
Since the entry into force of the European GDPR Regulation in May 2018, all organisations that process personal data of European citizens must comply with a strict regulatory framework. Consent is one of the six legal bases on which an organisation can rely to carry out this processing. The validity of the consent is based on well-defined conditions (free, specific, informed, unequivocal, demonstrable). It is notably required by the regulation for the processing of sensitive data such as health data but also for the transfers of data between organisations not bound by contractual relationships.
Pascal Rogiest, CEO of LuxTrust, explained: "For a trusted service provider and European trusted third party such as LuxTrust, it is therefore essential to be able to manage consents effectively, both at the level of citizens and of the organizations that use personal data. This is the essence of the partnership between fair&smart and LuxTrust".
Xavier Lefevre, CEO of fair&smart, added: "Since 2016, we have been working to make the collection of consent a marker of trust between companies and their private customers. They expect transparency, clarity, simplicity and security, regardless of the channel of interaction with the company (web, mobile, call centre, agency, etc.). It's not just about GDPR compliance, it's actually about customer satisfaction and respecting their trust".
Collecting consent is a delicate interaction with the data subject, which must be able to be done on different channels, at different times in a user journey and in a "clear and understandable" form suitable for the audience concerned. The subsequent use of the consent database by the various business applications of the company's Information System must be efficient, real-time and secure. However, its successful implementation requires very specific legal, IT and business skills.
"We are very excited to start this collaboration. It will allow Luxembourg and Belgian citizens to benefit from one of the best consent management solutions in Europe, operated by a recognised and essential player in digital trust, LuxTrust", continued Xavier Lefevre.
With the management of consent and preferences, LuxTrust has become the first Trust Service Provider in Europe to cover almost all B2C digital interactions. The exchanges of certified personal data that will be offered via LuxTrust's IDKEEP platform are expected to complete a trusted platform intended to facilitate the mobility of personal data.