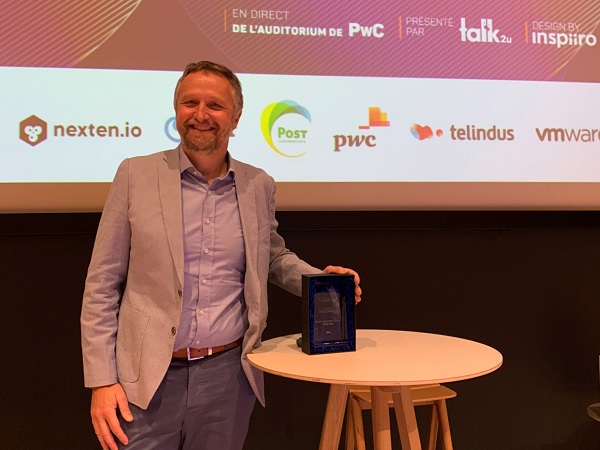 Governance.com, Cloud Innovation Project of the Year;
The winners of the Luxembourg Cloud Awards 2020, organised by Cloud Community Europe – Luxembourg, were revealed yesterday during the Golden-i Gala at the PwC Crystal Parc Building during a 100% digital edition of the Golden-i Gala.
This year, two categories were open for applications: Cloud Innovation Project of the Year and Cloud Tech Innovator of the Year.
In the "Cloud Innovation Project of the Year" category, three projects were distinguished by the jury:
- EBRC, for the of "Kubernetes as a Service (KaaS)" project set up with Finologee
- Governance.com, for the "Ready-To-Go Business Continuity Manager (RTG BCM)" project set up with the Institut Luxembourgeois des Administrateurs (ILA)
- Gravity Partners, for the "Hybree Desk (DaaS cloud based)" project set up with KPMG
The award went to Governance.com.
Marina Andrieu, Chairwoman of the 2020 Jury, commented: "The COVID-19 crisis created a need for working from home solutions that help companies to continue operations remotely while maintaining productivity and reducing risks. Governance.com solution addressed that need with the product-market-fit solution: The Ready-To-Go Business Continuity Manager (RTG BCM) which allows professional organisations such as the ILA to 100% digitally manage their activities and workflows. The ILA was able to organise its AGM successfully and noticed an increased participation of 25% compared to previous years".
In the category "Cloud Tech Innovator of the Year", the jury selected the three following start-ups:
- Gardemaplace, an application that allows private people to find and book activities for their kids
- Hybree Cloud by Gravity Partners, an innovative Hybrid Cloud Services
- CleverYak, by Deeplink, a SaaS-based live interviewing solution designed for recruiters
The award went to Hybree Cloud.
Marina Andrieu commented: "Hybree Cloud has a very strong ambition to compete with international big players in the Cloud area by offering customised, reliable, license-free, user friendly, scalable and cost-efficient solutions at the levels of IaaS, PaaS and DaaS which can easily meet customers cloud requirements. Hybree has its place in the national landscape".
The 2020 edition of the jury was composed of: Marina Andrieu, WIDE; Jean-Paul Hengen, Luxinnovation; Olivier Zéphir, Technoport; Eric Dubois, LIST; Marc Hemmerling, ABBL; Michele Gallo, Ministry of the Economy; Patrick Houtsch, CTIE; Philippe Linster, House of Startups; Georges Santer, FEDIL.