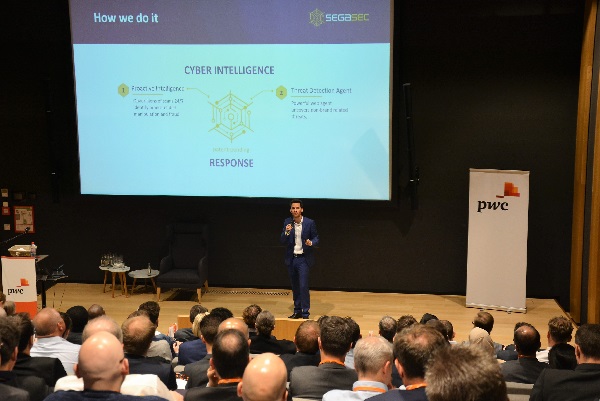 Credit: PwC
PwC Luxembourg Cybersecurity Day 2019, which took place on Thursday 24 October, brought together 250 European experts and 25 speakers to meet their peers, attend workshops and listen to talks on a wide variety of topics.
This year's Cybersecurity Day focused on "IT security to digital trust: how to help CISOs, DPOs and CEOs ensure they keep the organisation secure in a digital society". More specifically, speakers discussed the risks that come along in our digital age are in many cases unknown or not adequately addressed.
Koen Maris, Cybersecurity Leader, PwC Luxembourg, said to the audience after the final presentation: "The main takeaways for today are that we need to get the CEOs to empower the CISOs so they can do their job. We need to embrace change and the decision makers need to open up their minds, which is not the case today. We're being outnumbered by technology and we don't want to lose the battle. Cybersecurity is no longer a Defend problem but an Adversary problem".
This year's agendas included Cybersecurity for CISOs and security experts, the Privacy Corner for DPOs and persons in charge of data privacy and the CEO Ticket for CEOs. Amongst the many tailor-made activities for the attendees were talks by Jane Frankland, Rebecca Herold, Tim Cook and Harley Lovegrove.
Harley Lovegrove, Chairman of The Bayard Partnership, did a presentation on "What's the secret of getting your way and overcoming the blockages you set in your mind when implementing an idea into your business".
Rebecca Herold, an entrepreneur, author and ex-Adjunct Professor at the Norwich University Master of Science in Information Security & Assurance Programme, was also present. Her talk was on how removing digital blinders is crucial to increasing cybersecurity effectiveness: "Security is a way of being. There isn't just a lack of awareness but also a lack of understanding, limited resources and conflicts of interest". Rebecca Herold also called for companies to be more aware of all the computing devices in their business environment in order to combat security issues.
Frédéric Vonner, Privacy leader at PwC Luxembourg, reacted to Rebecca's talk, by saying that "Privacy is one of the cornerstones of a society based on trust. It is up to each of us to take care of how data is managed and used. This should though not prohibit us from leveraging on data to generate value".
Meanwhile, Tim Cook, Partner at Kafué Consultants, explained how to grow as a cyber leader, exploring the evolution of the CISO's role and its growing importance in companies.
This year's Cybersecurity Day continued with a talk by the best-selling author and 21-year cyber security veteran Jane Frankland, who helped the audience to understand how cross-industry collaboration and embracing diversity are the keys to building strong, secure and stable connected platforms, able to run both today's and tomorrow's services.
In her talk, Jane Frankland put forward the case of diversity, and especially that of women, in cybersecurity: "Women see risks differently and are good at assessing odds". Just as Winston Churchill's corkscrew-thinking method helped win the second World War, Jane Frankland believes a diverse talent pool that thinks differently can be a very efficient way to win the war against cyber crimes. "It's not that women are better than men. It's just that decisions are better when a group is diverse," she said.
Koen Maris, PwC Cybersecurity Leader, closed the day by summing up with the following: "Businesses have to build the resilience needed to withstand disruptive cyberattacks. To understand the needs, risks and measures of cybersecurity, CEOs want to step in the shoes of the CISO—the Chief Information Security Officer, and CISOs need a clear access to the CEO, prompt and direct".
In addition, Israeli security software company, Segasec, won the Cybersecurity Solution of the Year Award at the Luxembourg Cybersecurity Week gala dinner. Segasec has one mission: to stop consumer-phishing cams on the infinite web, beyond the enterprise perimeter. Segasec's cyber intelligence provides end-to-end threat protection against online impersonation and phishing scams targeting customers. The winner was selected thanks to a jury of experts as well as the PwC Cybersecurity Day audience.
After an international call for submissions, PwC received more than 50 applications. The other four companies participating in the pitch competition were Asvin GmbH, CyNation Limited, RCDevs SA and Reblaze.