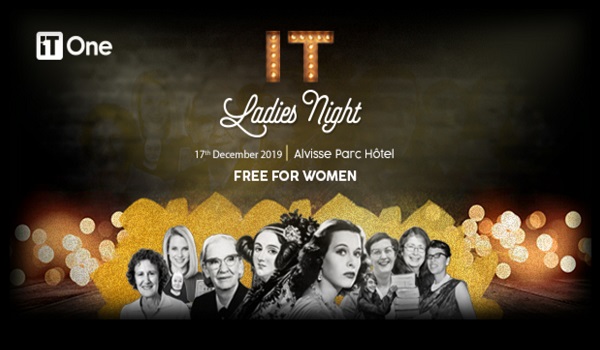 Credit: IT One
Luxembourg's first IT Ladies Night will be taking place on Tuesday 17 December 2019 at Parc Hotel Alvisse in Dommeldange, from 17:00.
This evening, organised by IT One, will be dedicated to celebrating women's contribution to the IT sector. The event will present, promote and reward women's work and their role in developing Luxembourg as a gender-balanced digital nation.
The event will begin with a conference by Isabelle Collet, followed by networking and other activities.
Participants will also have the chance to win an award among the following categories: Young ICT Talent of the Year; ICT Entrepreneur of the Year; ICT Business Developer of the Year; Technology Expert of the Year; Best Corporate Initiative for promoting women role in ICT. The event will culminate in an exclusive gala dinner (€150 plus VAT per person) where the award winners will be announced.
Registration for IT Ladies Night is free for women using the invitation code WMN648; men are welcome to join, as well (admission ticket is €100 excl. VAT). Register at
www.itladiesnight.lu
.