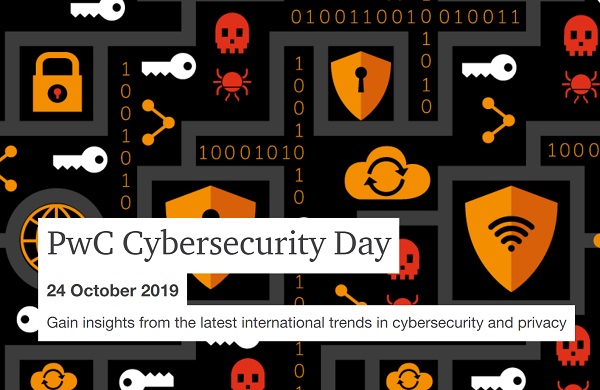 PwC Luxembourg has named the five finalists of this year's Cybersecurity Day, taking place on Thursday 24 October 2019 on PwC Luxembourg's premises.
For the fourth edition of the PwC Luxembourg Cybersecurity Day, which falls within the Luxembourg Cybersecurity Week, the focus will be on IT security to digital trust: how to help CISOs, DPOs and CEOs ensure they keep the organisation secure in a digital society. The morning will be dedicated to CISOs with technical updates and cybersecurity solutions leaving the afternoon with dedicated sessions for CISOs, DPOs and CEOs.
Participants will hear from speakers from all over the world, representing a rich panel of thought leaders but with varying topics that have been picked according to the audience's roles and interests and therefore resulting in three unique and tailor-made agendas: the PwC Luxembourg Cybersecurity Day for CISOs; the PwC Luxembourg Cybersecurity Day - CEO Ticket; the PwC Luxembourg Cybersecurity Day - Privacy Corner.
At the end of the day, award-winning cybersecurity entrepreneur and bestselling author, Jane Frankland, will help the audience to understand how cross-industry collaboration and embracing diversity are the keys to building strong, secure and stable connected platforms, able to run both today's and tomorrow's services.
Other confirmed speakers include Harly Lovegrove, Chairman of The Bayard Partnership, and Rebecca Herold, an entrepreneur and author who was an Adjunct Professor for the Norwich University Master of Science in Information Security & Assurance Programme.
After an international call for submissions, with more than 50 applications, PwC Luxembourg has selected five cybersecurity companies with relevant solutions for the Luxembourgish market. The Cybersecurity Solution of the Year Award will be conferred by the Jury and the audience to the candidate that demonstrates excellence at all levels, from strategy to execution, during the Luxembourg Cybersecurity Week gala dinner that same evening.
This year's five finalists are: Germany-headquartered Asvin GmbH, which provides a distributed ledger secured update solution for the Internet of Things (IoT); UK-based CyNation Limited, an Integrated Risk Management company focused on managing the risks inherent in third-party ecosystems; Luxembourg-headquartered RCDevs SA, which combine mobile technologies with proven security standards in order to offer the best alternative for professionals and non-professionals requiring cost-effective solutions compatible with their user's mobility; Reblaze Reblaze, an Israeli cloud-based, fully managed protective shield for sites and web applications; Segasec Segasec, a Tel Aviv-based cyber-security startup providing end-to-end digital threat protection against consumer phishing attacks that originate in one's blind spot.
The complete PwC Cyber Security Day's agenda is available at https://www.cybersecurityday.lu/.