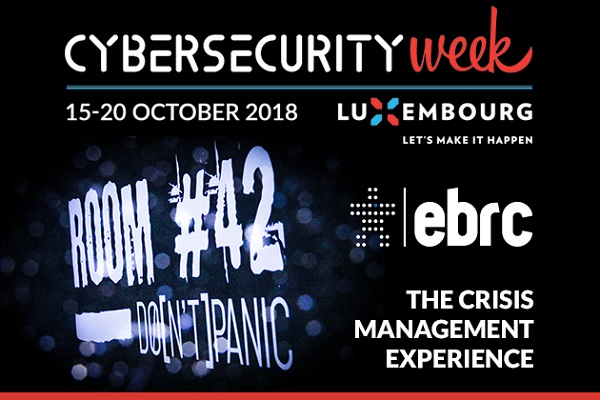 EBRC and C3 Join Forces to Lead C-levels in Fight Against Cyber-Threats
The European Business Reliance Centre (EBRC) and the Cybersecurity Competence Center (C3) have announced their partnership which will enable companies to define, based on a Business Impact Analysis (BIA), a tailor-made crisis scenario that can be tested in the Room #42 of C3.
C3 and EBRC will announce their brand-new partnership during the Cybersecurity Week Luxembourg.
As an expert in cyber-resilience, EBRC will put its operational risk management skills on the forefront, through its Advisory offer. ISO 22301 (Business Continuity Management) and ISO 27001 (Cybersecurity) certified, EBRC will propose tailor-made crisis scenarii so that companies can practice their defence against cyber-threats. To do so, C3 will open its Room #42, where the ability of a Company's Management team to handle a crisis situation will be challenged thanks to a complete set of tools offered by the simulator. Fun but also realistic, this exercise aims at training companies to handle incidents and attacks triggered by cyber-threats, and therefore to improve their cyber-resilience.
The cyber-space is not a secure place
In 2018, dozens of well-known companies were impacted by major incidents exposing, if needed, the increase of cyber-risks. The number of major events shows evidence of increasing cyber-threats. Data theft, ransomwares, blackmailing, phishing are on the rise, and each and every organisation that represents an economic interest is a potential target.
Protect and react
The challenge here is to protect the digital assets of a company, and all the while allowing it to carry on its activities, particularly in an ultra-connected economy vulnerable to any service interruption.
Methodologies do exist, and are mastered by EBRC teams. First, threats jeopardising the organisation and the related risks can be identified through a Business Impact Analysis. Then, risks can be mitigated by balancing the costs of the measures to be implemented with the risk decrease level.
EBRC suggests going even further by defining a tailor-made crisis scenario enabling managers to face threats with the Room #42, the C3 cyberattack simulator. Indeed, crisis management requires action plans implemented to face the situation, and human coordination resources to be perfectly led. The exercise aims at improving the efficiency of the teams facing a cyber-attack and at rehearsing the processes to be activated in a real situation.
Discover the EBRC & C3 – Room #42 cyber-attack simulator
On Friday 19 October, at the end of the Cybersecurity Week Luxembourg 2018, EBRC and C3 will welcome companies and organisations from 09:00 at the C3 office, located at 16 bld d'Avranches, L-1160 Luxembourg for a free exhibition of this new service. The introduction by EBRC focused on the cyber-resilience and the definition of a crisis scenario will be followed by thematic discussions on the key phases to be set up and a presentation of what can be simulated by Room #42. To attend, register at https://www.cybersecurityweek.lu/events/2018/ebrc-crisis-management-experience-with-room-42/