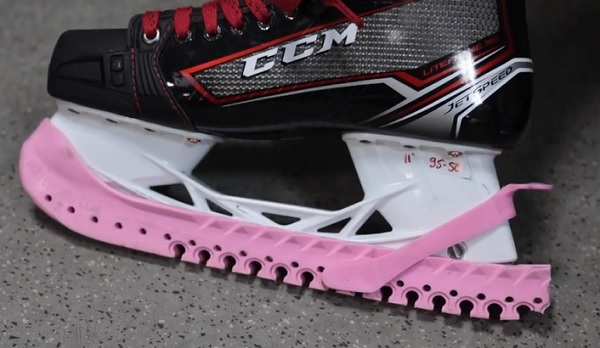 The Luxembourg Ice Hockey Federation has announced the Grand Duchy will be sending a women's team (the Lionesses) for the first time to compete in the first ever Women's Development Cup that will take place in Kuwait from 6 - 12 November this year, at the Winter Games Club.
Organised by the International Ice Hockey Federation (IIHF), the Development Cup is a new concept (a showcase tournament) that gives nations that do not fit the criteria (e.g. nationality) to compete in other IIHF international tournaments.
Alain Schneider, President of the Luxembourg Ice Hockey Federation, explained that not all players on the Luxembourg team have Luxembourgish nationality (twelve women in total, three or four do not (yet) have Luxembourgish nationality).
The women's team played their first competitive games during last season's Luxembourg Hockey League. Whilst they did not win any games, they were scoring goals and often came close to winning.
One of the ice hockey clubs in Luxembourg, the Tornado, started a women's team four years ago, coming out of the 2018 "Learn to Skate" programme which was open to all; however, there were not enough women present to form an official women's national team, just a club team (Tornado).

Chronicle.lu spoke with Liam McEvoy, Media Manager of the Luxembourg Ice Hockey Federation, who explained that whilst he had not been involved in the creation of the women's (club) team, he had been "around since its inception". He described their upcoming participation in the Development Cup as "a big milestone" and "fantastic". He added: "The next big milestone for me personally is I hope that Beaufort creates a girls team of its own", although he recognised that this might be further down the line than the creation of an international team for Luxembourg. He noted that this was a move towards showing the sport to be "as inclusive as it is", adding that he was "very excited" about this development.
According to Liam, the next step is to establish enough Luxembourg nationals on the team to enter the world championships. If the Development Cup goes well, the team could move up to the world championship in two to three years' time.
Background of Team Luxembourg
Ice Hockey in Luxembourg has seen a popularity boom in recent years. At club level the country only had 2 senior teams for many years, these were Tornado Luxembourg and Ice Hockey Club Beaufort. As the sport grew, so too did the number of registered players. As of March 2022, there are 7 active senior club teams. Tornado, Puckers, Cool Puckers, Silverbacks (born from a beginner programme), Tornado Women (the 1st all-women's team in Luxembourg), the rebranded Beaufort Knights and Beaufort Knights II. Throughout the 2021/22 season these 7 were joined by the junior club of Luxembourg City, the Huskies, to compete against each other in the first ever Luxembourg Hockey League (LHL).
This new league was divided into 2 divisions to ensure fair competition as some teams feature experienced players and others consisted of beginners who have only recently learned how to skate. Division 2 featured Beaufort Knights II, Cool Puckers, Huskies, Silverbacks and Tornado Women.