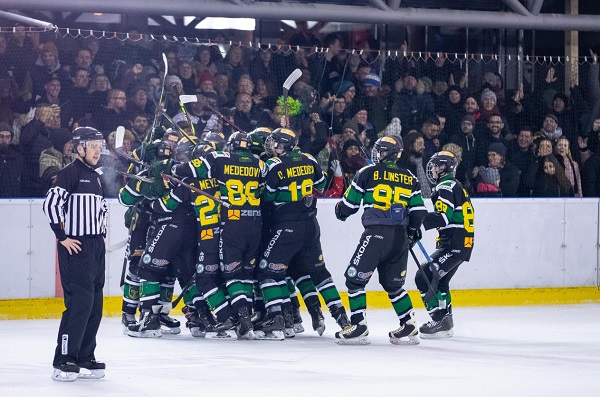 Credit: Liam McEvoy
Luxembourg ice hockey team, the Beaufort Knights, have won their first home game of the 2019/20 ice hockey season 4-3 against Belgian opponents, Herentals Toekomssteam.
On Saturday evening, over 500 spectators gathered in Beaufort Ice Park to watch the the local ice hockey team go up against league leaders, Herentals Toekomssteam. Despite an early 0-2 start, the Beaufort Knights went on to secure a 4-3 victory in overtime.
Coached by US-born professional John Bierchen, the Beaufort Knights finished the season with four wins, three losses and one overtime loss, leaving them in 3rd position. Notable victories included those against defending champions Leuven Chiefs (3-2) and Charleroi Red Roosters (3-1).
The next Beaufort Knights home game will take place this Saturday 11 January 2020 at 19:30 in the Beaufort Ice Park against the Mechelen Future Golden Sharks (to whom the Knights lost 6-4 earlier this season). It has been confirmed that German professional hockey team Kölner Haie's mascot "Sharkie" will be present to perform his on-ice breakdance during the intermission.