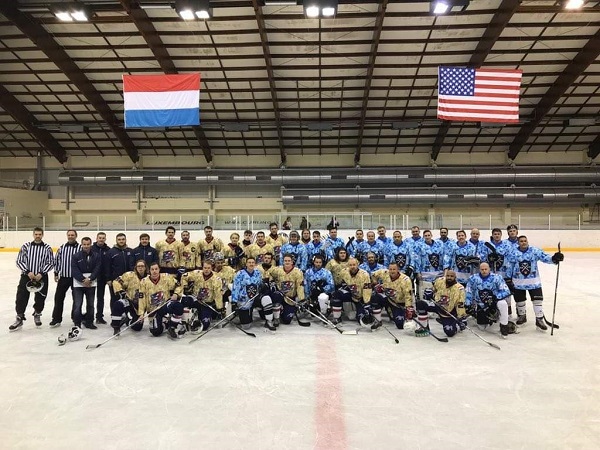 On Saturday, Tornado Luxembourg won the second annual Veterans Day (Ice) Hockey Game at Kockelscheuer, against the ice hockey team from the U.S. military base of Spangdahlem.
Supported by the U.S. Embassy in Luxembourg, the Veterans Day Hockey Game was played in front of 500 people, a new season record, on 17 November, one week after Veterans Day and the 100th anniversary of the end of WWI. Tornado won the game 17-3.
U.S. Ambassador to Luxembourg, J. Randolph Evans, dropped the puck in the opening ceremony in honour of all the young men and women who served their country so bravely, whether they were fire fighters, police officers or soldiers. Flanked by two WWII re-enactors from the 26th Yankee Division Luxembourg, who had joined the Military Museum of Diekirch in a small exhibition fair prior to the game, Ambassador Evans joined both teams and the 500 spectators in the celebration of duty, honour and sacrifice as taps, followed by national anthems, filled the Kockelscheuer ice rink with gravitas and dignity.

The special bond that exists between the United States and Luxembourg, forged during WWI and WWII, was fostered again during this friendly game between Tornado and Spangdahlem. After the game, both teams went for dinner in a nearby restaurant where Tornado thanked Spangdahlem for their visit and where new plans were made for the next season.
As in last year, parts of the proceeds will go to support a good cause; this year, Tornado selected Wonschstär, an organisation that helps people, especially children, suffering from illness or injuries, to realise their dream.