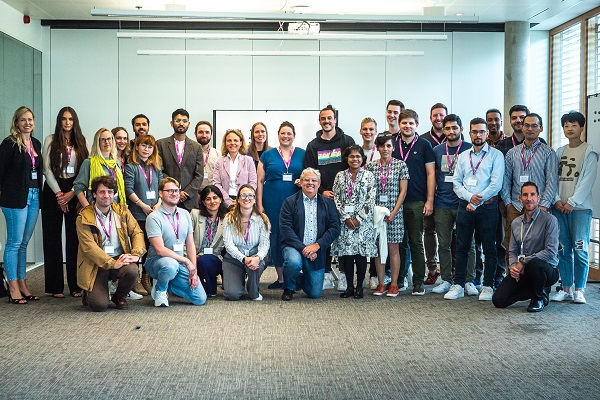 Zortify Summer School group photo; Credit: Zortify
Luxembourg-based human resources (HR) technology company Zortify held its first Summer School dedicated to "The Future of Work" from Monday 28 August to Friday 1 September 2023.
A group of 27 PhD students, postdocs and researchers from Luxembourg and beyond (US, India, China, etc.) gathered in the Grand Duchy to address the future of work. Among the main areas discussed throughout the week were human experience management (HXM), artificial intelligence (including explainable and ethical AI), natural language processing (NLP), data visualisation and user experience (UX) design. One major element was looking at how to bring the academic/research and industry worlds together to address these issues.
One of the highlights of the inaugural Zortify Summer School was the "Future of Work" Summit, which took place on Thursday 31 August 2023. About 100 people gathered in the auditorium of PwC Luxembourg in Cloche d'Or for this one-day summit, which looked at topics such as hybrid work models and explainable AI in the workplace, among others.
Chronicle.lu sat in on the opening sessions which included introductions by Lieven Lambrecht, Head of HR at PwC Luxembourg, and Prof. Dr Florian Feltes, CEO and Co-Founder of Zortify. The latter presented the idea behind this first Summer School, particularly emphasising the desire to get industry partners involved, and expressed his optimism for the future of work, which he felt should follow a human-centred approach. For his part, Lieven Lambrecht addressed the challenges associated with a multigenerational workforce and the need to be prepared for the future - even if it is uncertain.
The introductions were followed by a keynote presentation by Dr Stefanie Becker from German multinational software company SAP. She presented SAP's "Innovative, Holistic Approach to Working Life", sharing her tips with the audience, for example regarding hybrid work models (and their benefits in terms of productivity and well-being). In the Q&A session that followed, Dr Becker noted that what had most surprised her about the implementation of AI was the speed at which this technology was evolving. She also spoke of increasing demand for upskilling and reskilling among employees in relation to AI.
Prof. Dr Florian Feltes later moderated an interactive panel on "AI and HXM: Empowering Human-Centred Workforces". For this discussion, Dr Stefanie Becker was joined by Dr Annika von Mutius, co-founder of Berlin-based HR management software solutions company Empion, and Theresa Fesinstine, founder of PeoplePower.ai, a US-based company working to harness the power of AI in the field of HR. The panellists discussed the ways that AI can be used to enhance the human experience - and warned against letting fear get in the way of this. To address this fear, it is important to encourage increased understanding of the technology (which also means asking where the data, rather than the technology, comes from), they noted.
The summit continued with additional interactive panels (on topics such as explainable AI), other talks and research presentations, before concluding with networking over refreshments.
Reflecting on the first Zortify Summer School, which came to an end on Friday, Prof. Dr Florian Feltes told Chronicle.lu: "At Zortify we help our clients to solve the most urgent problems in the fields of HR and human experience management. One success factor is improving our AI-based tools by bringing together a diverse group of experts with varied experiences and perspectives. At our Zortify Summer School 2023, we discussed how solutions for the future of work and HR could look like. We fostered a dialogue - fuelled by deep connections, collegiality and open communication - that was far greater than we could have anticipated. We are very proud of the results."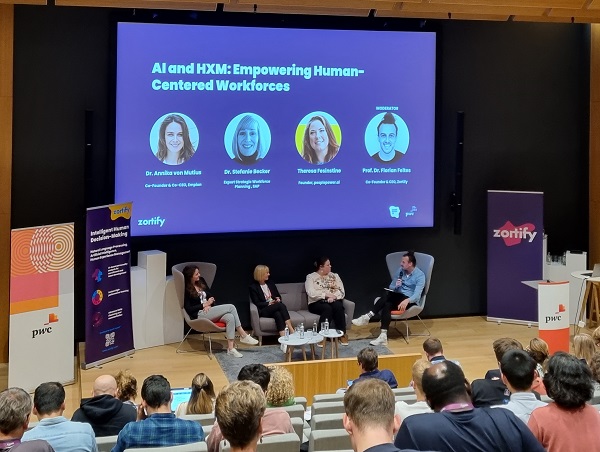 Zortify Future of Work Summit panel, featuring (L-R) Dr Annika von Mutius, Dr Stefanie Becker and Theresa Fesinstine and moderated by Prof. Dr Florian Feltes (Credit: Jazmin Campbell/Chronicle.lu)