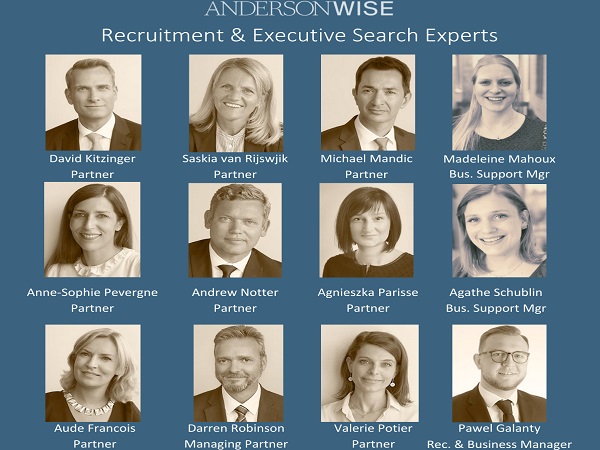 Anderson Wise team; Credit: Anderson Wise
The COVID-19 pandemic has had a significant impact on many areas of people's lives over the past two years, not least in relation to the world of work; the health crisis has forced companies in Luxembourg and around the world to begin rethinking traditional working patterns.
Chronicle.lu recently reached out to Darren Robinson, Managing Partner of Anderson Wise, a leading independent recruitment and executive search firm headquartered in Luxembourg, to learn more about how the pandemic has changed the recruitment industry and what this means for companies in the Grand Duchy.
A veteran of the recruitment industry with a career spanning over 25 years across ten countries, Darren Robinson has served as Managing Partner of Anderson Wise since its creation in 2019. He is also a Council Member of the British Chamber of Commerce for Luxembourg and the Secretary of the British-Luxembourg Society, as well as a member of many Luxembourg business and industry associations and a regular panelist discussing trends in human resources (HR), recruitment and gender and diversity.
Chronicle.lu: In what ways has the COVID-19 pandemic affected recruitment and hiring over the past two years?
Darren Robinson: The biggest shift in the recruitment process has been the adoption of virtual interviews at almost every first stage interview. This was not the case pre-pandemic in Luxembourg. We have also proven that hiring and on-boarding is possible remotely. It may be difficult to assess whether it is more or less successful and whether those who joined remotely are more or less productive than their existing peers.
Without the physical clues that a face-to-face interview can reveal, it takes a highly experienced recruiter / interviewer to uncover issues through intense listening and understanding, issues that can lead to a failed recruitment process that has taken weeks to conclude.
Chronicle.lu: Has there been a shift in demand in the labour market?
Darren Robinson: Anderson Wise is predominantly active in the fields of Finance, Legal and Accounting, these fields are booming. I have personally been in the recruitment industry for over 25 years and these are the best conditions for our sector that I have ever witnessed, an unprecedented demand for skilled staff.
Chronicle.lu: Are jobseekers / employees now looking for more flexibility and greater work-life balance?
Darren Robinson: Yes. Our working patterns changed over the last two years and so many for the better. Those companies who have recognised the need to fulfil their employees' requests for a change in working patterns are winning the talent scarcity battle!
Chronicle.lu: Do these expectations differ depending on the age of the jobseeker / employee?
Darren Robinson: We don't necessarily see different expectation due to age, but rather due to their family situation. Those with young children and especially women are more inclined to push for flexibility and a greater work-life balance.
Chronicle.lu: Due to the high price of property, have some gone to looking simply for the best-paid positions? If so, is this forcing employers to offer high salaries (at least in some sectors)?
Darren Robinson: When working from home was mandated, many employees lost the connection and a sense of belonging to their employer. If one was doing the same tasks at the same desk without a sense of belonging or loyalty to their employer, many took the option to do the same for more money. We haven't seen any evidence to suggest that the price of property has a direct correlation to an increase in salaries offered by employers or sought by employees, it's more to do with the many opportunities and a scarcity of skilled talent.
Chronicle.lu: Are jobseekers looking for different benefits?
Darren Robinson: For the most scarce skills, sign-on bonuses and relocation allowances for international candidates have returned. Flexibility and better balance trumps financial incentives.
Chronicle.lu: In what ways have employers had to adapt to these changes? In what ways CAN they adapt to these new trends?
Darren Robinson: The pandemic accelerated the pace of change that was already occurring. Money has never been the highest priority for many to change roles, it is more about how they feel valued.
I have witnessed two companies in the same sector with different approaches to encouraging their employees to stay. One has announced an increase in salaries across their employee population and the other an increase in the number of employees in each team to help reduce the workload per employee. Each company will incur similar cost increases and I'm in no doubt the latter approach will prove to be more successful if not immediately, certainly in the mid- to long-term.
Chronicle.lu: How are recruitment firms adapting to these changes?
Darren Robinson: Due to the scarcity of skilled candidates and an unprecedented volume of vacancies, recruitment firms (and companies) no longer have the luxury of posting a job advertisement and waiting for the most sought-after candidates to apply. Identifying where they are and how to procure them are the recruiters next generation of skills. Those recruiters who have a long and successful track-record and are well-known in the market will always be a candidate's preferred choice to partner with. They are almost always referred to their preferred recruiter by their colleagues and friends.
We need to do more internationally to fill the demand. Anderson Wise have recognised the need to increase Luxembourg's attractiveness as a place to live and work to the international market. Luxembourg has a great international business brand which has proved successful in attracting many new companies. Anderson Wise is promoting Luxembourg as a place to live and work through the Chambers of Commerce and Industry Associations. We recently joined ALFI at their London and Milan Roadshows and will accompany the Luxembourg Chamber of Commerce on their Trade Mission to London in June.
I am pushing a longer-term initiative through some of the financial industry associations to promote Luxembourg as the "Global Internship Capital of the World". After all, where would you find a more cosmopolitan and vibrant place to complete your internship? If we can attract a supply of talent early, we will ultimately benefit in the future.
Chronicle.lu: What have been the main challenges for recruiters during the COVID-19 pandemic?
Darren Robinson: Those new to the industry suffered the most. It is more difficult to develop a relationship with candidates and clients without the opportunity to physically meet. Without the networking events, our visibility went online, it was clear that for some this was a new medium to become familiar with.
And like all companies, working from home disconnected many from their teams reducing the opportunity to share best practice and learning experiences every day.
We discussed the changing demands from candidates accelerated by the pandemic. The biggest challenge in the recruitment process currently is managing the "counteroffer". Due to the scarcity of skilled talent, almost all employers will offer something to an employee who resigns. Only those recruiters who have the training and experience to uncover whether a candidate will or will not accept a counteroffer will survive in these unprecedented market conditions.
Chronicle.lu: Are those challenges now easing?
Darren Robinson: We've all adapted to the new normal and many won't go back to their normal work patten. I continue to work from home two days per week, some choose less and some more. Those in the frontiers will have less options in the future due the personal tax implications. We're back meeting people and I for one am pleased that events that create business opportunities have returned.
Chronicle.lu: In your opinion, what does the workplace of the future look like?
Darren Robinson: The industry has spoken a lot about the "Great Resignation". What we haven't spoken much about is the "Bad Boss Extinction". Those companies who continue to support leaders who make employees lives miserable will inevitably disappear and I for one say good riddance.
I believe that those companies who will thrive are those who are prepared to introduce flexibility and better working conditions. They will continue to retain and attract great employees through compassionate leadership and managers who lead from the heart.
Chronicle.lu: Are many employers moving to a part-teleworking model?
Darren Robinson: Undoubtedly, there will be some form of teleworking available, although substance requirements, personal tax implications for frontaliers and accessing data will restrict the number of days.
Chronicle.lu: Are many employers moving to a hot-desking model?
Darren Robinson: I think we will see the use of satellite offices or co-working spaces close to the main border crossings to provide the frontaliers with some respite from their daily commute to the business districts. It would also make sense for those firms who are just too far from one or two of the borders to offer this facility to attract talent who they would not normally attract.