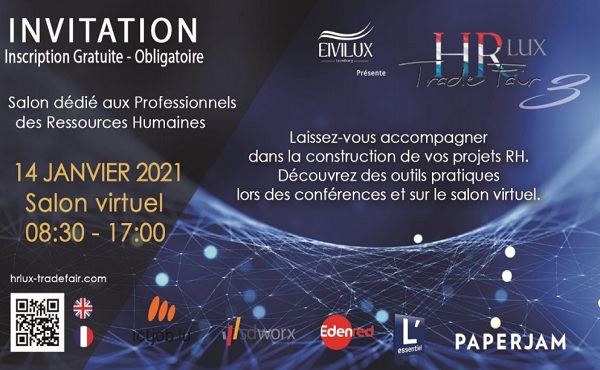 The third edition of the HR Lux Trade Fair, an exhibition dedicated to Human Resources (HR) professionals in Luxembourg, will go ahead virtually next Thursday 14 January 2021 from 08:30 to 17:00.
EiviLux, organiser of the HR LUX Trade Fair, called on an expert service provider in the organisation of virtual exhibitions in order to allow continuity and the implementation of this new edition.
Virtual stands and conferences with renowned experts are on the agenda. For access, participants are required to pre-register or register the same day on the platform with their email address and their own password. Once registered, visitors can enter the show and search for exhibitors of interest to them using a search engine or by theme or keyword.
Throughout the morning, conferences will also follow in two virtual rooms. Speakers will discuss the major themes related to HR and if the participant is unable to attend, direct speeches will be recorded and made accessible in replay during the day.
Visitors and exhibitors can directly contact one another via chat, email, telephone or videoconference.
The experts present at the show have personalised their virtual stands and will provide visitors with downloadable PDF documents, videos and / or external links.