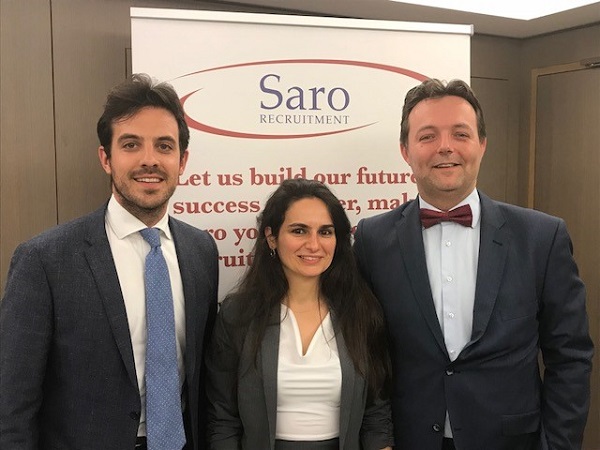 (L-R): Sonny Verbeet, office manager Amsterdam; Camelia Craciun, office manager Luxembourg; Robert van den Oord, founder;
On Tuesday evening, Saro Recruitment opened their new offices at 65 Avenue de la Gare in Luxembourg-ville.
Robert van den Oord, founder, explained that the company was formed three years ago and said that they have now found the right office for them. The company has offices also in Amsterdam.
At the opening, guest speaker Olger Drajer congratulated Robert and the company for their new office and referenced the 15 staff present from their Luxembourg and Amsterdam offices. He talked about making the first steps, about leadership and dealing with conflict - where the older generation and younger generations require a different approach.
He mentioned about expectations of different generations, varying approaches at different managerial levels and also the issue of speaking "international" English. He also talked about the difference between training and mentoring, with changes in society and upbringing leading to challenges in the workplace.
In talking with Chronicle.lu, Robert van den Oord said that the Amsterdam office was opened in 2015 and the Luxembourg office shortly afterwards in the same year, with 7 and 10 staff in the two offices respectively. They focus on recruitment in the accounting and control, legal and compliance, and operational finance and banking sectors.​