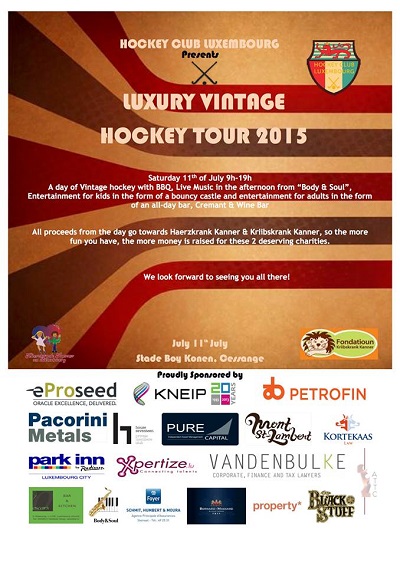 The Hockey Club Luxembourg (HCL) is organising an international hockey tournament on Saturday 11 July 2015 from 09:00 - 19:00 at the Stade Boy Konen in Cessange.
A total of 14 Teams with 160 players will participate, from Geneva (CH), Bloomsbury (UK) Arnhem (NL), Den Haag (NL), Woerden (NL), Leerdam (NL), Goeree (NL), Overflakkee (NL), Arlon (BE), Luxembourg (LU) and Nancy (FR).
Most of the above teams have been coming to Luxembourg year-on-year for what is always an entertaining and exciting day which is great as a family day out, with a BBQ and crömant and wine bar on the go all day long. A bouncy castle will be there for children too.
As in previous years, this event is held in aid of charity - last year, €10,000 was donated to charity from the proceeds of this event. This year the charities support include the Haerzkrank Kanner and Kriibskramk Kanner.
For further info, email: tour@hockey.lu.