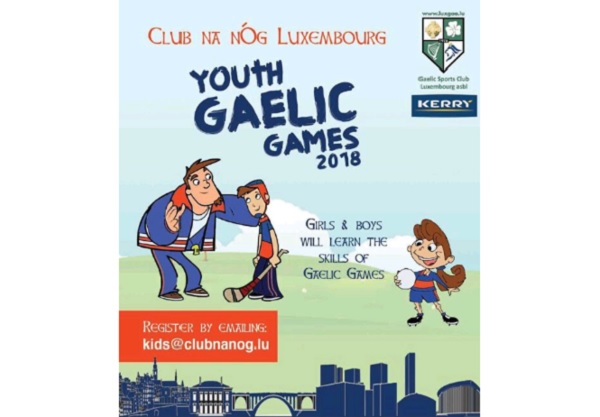 The Gaelic Sports Club Luxembourg asbl (GSCL) has announced that it will begin its 3rd annual Club na nÓg (Gaelic Games for children coaching sessions) this April; the aim, as always, is to bring Gaelic Games to girls and boys in Luxembourg in a fun and friendly way.
The sessions are being held on Sundays between 29 April – 1 July 2018, from 15:00 – 16:00, at the Stade Michel Wagner in Luxembourg-Weimerskirch (the pitch can be reached by Bus Ligne 8).
The Club na nÓg is aimed primarily at children aged 4-14 years old (split into age appropriate groupings)
Parents are requested to remain at the pitch for the duration of the training session. There will be teas/coffees available for parents in the clubhouse during the sessions.
Those interested in having your child / children attend some or all of the sessions please register them online at https://goo.gl/forms/dKglOvgGIXiDg8EK2
​Children participating should be dressed in comfortable sports clothing for the sessions and should apply sun cream when required.
For further information, email: kids@clubnanog.lu or see www.luxgaa.lu​