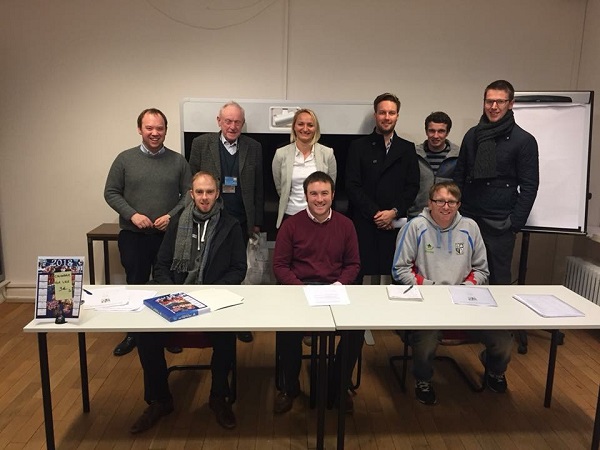 On Thursday evening, the Gaelic Sports Club Luxembourg (GSCL) held its Annual General Meeting (AGM) at the Halle Schuman of the Foyer Europeen in Luxembourg city centre, elcting a new committee for 2018.
Outgoing chairman Ronan Carroll gave way to newly elected Peter Sullivan who now heads up the club and its committee for 2018, with David Henriques as the new club secretary. Many other position were filled during the evening, including Vice Chairperson, Assistant Secretary, Treasurer, PRO, Club Development Officer, Registrar, Sponsorship and technology Officer, Men's football Officer, Ladies Football Officer, Hurling Officer and Camogie Officer.
To become a GSCL member or renew your annual subscription, simply: (1) Download and complete the membership form available on www.luxgaa.lu; (2) send the form to email: registrar@luxgaa.lu; (3) Transfer the appropriate sum to: Gaelic Sports Club Luxembourg account at the Dexia Bank (BIC: BILLLULL, IBAN: LU24 0021 1375 5690 0000).
Fees: €75 for playing members, €60 for ordinary members, €25 for students/unwaged
See www.luxgaa.lu for further details