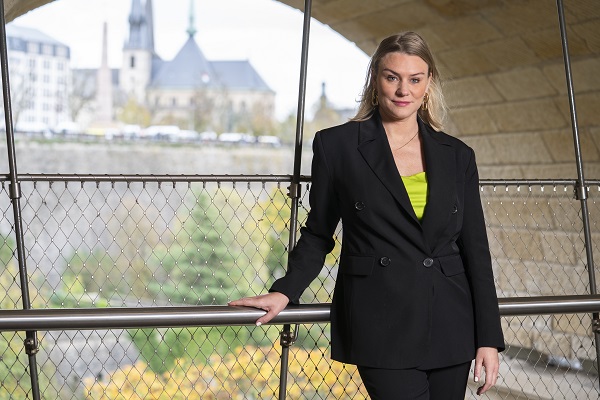 Lovisa Löwenborg, Founder of Female Fund;
Chronicle.lu recently had the opportunity to speak with Lovisa Löwenborg, an entrepreneur originally from Sweden, who is in the process of setting up of a Luxembourg-domiciled "Female Fund".
This future fully women-owned fund in Luxembourg will serve the objective of increasing gender equality within the financial sector and boosting female ownership investments in general.
In her country of origin Sweden, Lovisa created WIRE, a real estate portfolio which attracted more than 500 active female investors between 2018 and 2022. The Female Fund, the first European real estate fund ever started by a woman, is an evolution of that concept, on a more ambitious scale. The fund will target female investors and build an international investor community for women under the Female Fund brand. Later, the fund plans to open up for more investment categories such as investment in forests, venture capital (VC) for female entrepreneurs and cryptocurrency. The idea is also to be a fund umbrella where other female initiatives can rent a compartment and in an easy way start funds.
Chronicle.lu: What motivated you to set up the Female Fund - and what is the link (if any) to WIRE, the real estate company you founded a few years ago?
Lovisa Löwenborg: Having lived in several countries, I realised the need for female empowerment, especially in finance, was often present wherever I would go. After my journey with WIRE, I followed Gandhi's advice: "Be the change you wish to see in the world". Setting up the first female-owned fund in Luxembourg is a further step in that direction.
Female Fund is therefore my way to take female assets to the next level internationally and to get more women into finance and investments by bringing female investors from all over the world together.
WIRE Invest will keep going in Scandinavia and has already about 650 active investors.

Chronicle.lu: When do you foresee the creation/start of operations of the Female Fund?
Lovisa Löwenborg: We are aiming for beginning of next year. The structure is all set, and we are now raising the first €10 million before the launch. The interest is considerable and the first compartment we will set up with a real estate portfolio is a very attractive investment class. As it is a favourable moment to enter the market, I'm hopeful we will find women who will want to join the Female Fund investments community and experience this exciting journey with us.
Chronicle.lu: Why did you decide to set up this fund in Luxembourg specifically? How would you describe the process so far, and have you been working or plan to work together with any partners in Luxembourg?
Lovisa Löwenborg: Luxembourg is Europe's financial heart and offers the best conditions for setting up an international fund. The strive for continuous development, innovation and sustainability is also present, which made my decision even easier. After attending the ALFI Global Distribution Conference in September, I was certain Luxembourg was the right choice. It was clear from the discussion that the interest in alternative funds is expected to grow in the near future, meaning we will see more funds and more investors in each fund.
The banks and partners I have been in contact with during the last fourteen months have all agreed on two things: a need to break the ceiling of who can own a fund and a need to inspire more women to invest. As far as I'm aware, I'm the first woman under 35 starting a fund in Luxembourg. That itself is proof that we are on the right track.

Chronicle.lu: In terms of target audience, the fund will be domiciled in Luxembourg but the idea is to attract female investors from all over the world - is that right?
Lovisa Löwenborg: That is correct. The investor community will be built on an international basis while the fund structure in Luxembourg will be the tool enabling us to invest together.

Chronicle.lu: What can you tell us about plans to open up more investment categories in future?
Lovisa Löwenborg: I believe other investment areas also need to attract more women. That is why I'm already in talks with a partner about investments in forests. Morever, I am also looking at Web 3 and Blockchain because I don't want women to lag behind in these areas either. Gaming is the latest area that I've stepped into, and I will also include a type of venture capital compartment which will support female entrepreneurs and will increase the amount of capital as a percentage that goes to female startups.
Chronicle.lu: Why do you feel it is important to have a fully women-owned and women-run fund (i.e. for women by women) in Europe?
Lovisa Löwenborg: After helping to attract female investors in Scandinavia, I saw that new methods and concepts are required to get women interested in investments. Financial awareness and education are important for us. Every woman, regardless of their age, should ask themselves the question "What am I going to live off once I retire?" This begins with simple steps such as saving, prioritising spendings or considering the right moment for a bigger purchase. We strive to encourage women to realise their potential, to dare ask questions, to learn from each other and exchange on how to positively impact future generations.
Women also have, according to my experience, slightly different wishes and needs than men when investing. We want to make money, but we also want to contribute to a better society and a better world. That is why sustainability is one of our priorities and often even trumps financial returns. Capital is power. And with the right volume, we will be able to set our preferences when investing. Thankfully, this mindset is appreciated both by our investors and companies invested in, which are mostly led and owned by men. We work closely with male profiles in finance and real estate who share our vision of achieving development and diversity in a very deeply structurally rooted area.