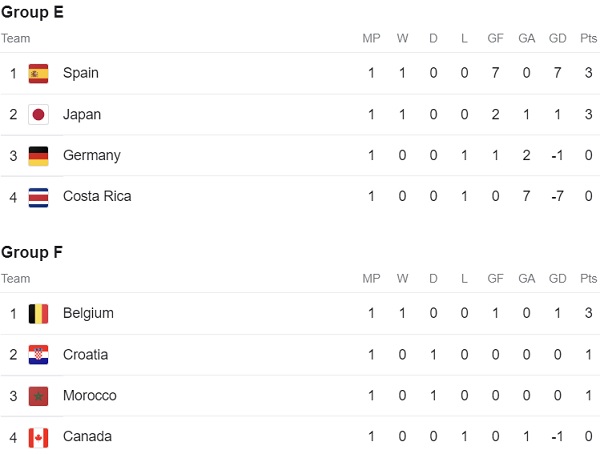 Wednesday 23 November 2022 saw the eight teams from Groups E and F take to the pitch to commence their FIFA World Cup 2022 campaigns.
Following the initial games in Groups A - D, it would be interesting to see if the day would see attacking football and lots of goals, or would teams take a cautious approach in order to avoid defeat in their opening games - yesterday saw 8 goals in 4 games, but this included 2 scoreless draws.
And would politics raise its head again, or would it seep away with the focus on action on the pitch? A bit of both, really, as the day brought one massive shock, one thrashing, one narrow win and one goalless draw.

Group E
Previous winners Germany (last winners in 2014 when the tournament was held in Brazil) took on Japan. In protest against FIFA's stance on the one-love armbands, the German players put their hands over the FIFA logos on their shirt when posing for the pre-match team photo. Germany's football federation has contacted the Court of Arbitration for Sport (CAS) to question the legality of FIFA's ban. Germany were one of the teams who had planned to wear the armband, along with England, Wales, Belgium, Denmark, the Netherlands and Switzerland. The first quarter was a rather tepid affair with Japan marginally the more adventurous, yet with Germany having more possession in their opponent's half. After 15 minutes, Maeda had a goal (correctly) ruled offside for Japan after a very fluid move down the right flank. Gundogan had a couple of good chances but was denied by saves from Japan's goalkeeper, Gonda. However, on the half-hour, in a "moment of madness", Gonda (literally) pulled down David Raum in the box, with the German forward Gundogan slotting home the resulting penalty awarded by the referee. 1-0 to Germany. The crowd rarely got excited and the stadium was relatively quiet, with the action on the pitch proving to be relatively mundane leaving to a disconnect between them and the players. Only a Mexican Wave seem to get them excited and put of their seats. Germany were content to keep possession and build slowly with short passes but showed no urgency in building on their lead; Japan, on the other hand, unlike the early skirmishes, were left chasing shadows as they could not retain possession. 4 minutes added time. Germany got the ball in the back of the net after 5 minutes had elapsed, but VAR ruled that Havertz was offside when he connected with a well-timed cross. Japan almost scored on the break but Maeda's header was just wide of the post. HT 1-0 to Germany. After the break, both sides seemed to show a bit more urgency on the ball and the game opened up. Both sides created chances and, on 70 minutes, Gonda rescued Japan from going further behind with 3 great saves within a minute. Japan put on 3 substitutes and upped the pressure and forced the German keeper into a couple of great saves, but could not keep out Doan who slotted home the equaliser on 75 minutes after the ball rebounded from the keeper. 1-1. The crowd found its voice and cheered on Japan's every move forward. Germany then sent on 2 substitutes to inject some urgency into their side. Germany forced a couple of corners but gain no rewards; Japan then broke forward with a long ball and sheer determination saw Asano blast the ball into the roof of the net to the surprise of everyone. 2-1 to Japan on 83 minutes. Germany counter-attacked, then Japan raced upfield again, claiming for a penalty (correctly denied). The tempo of the game had skyrocketed. 7 minutes of added time announced. Germany did all they could, they passed the ball but lost possession, they claimed forlornly for a penalty that was never going to be awarded, and Havertz blasted the ball just wide. FT 2-1 for Japan who celebrated like they won the tournament! Germany also lost their first game at the 2018 FIFA World Cup when they lost to Mexico and subsequently finished bottom of their group.

In the group's second game, Spain faced Costa Rica who had won their group in 2014 but failed to repeat their success in Russia four years ago. Spain, on the other hand, had won the World Cup played in South Africa in 2010, as well as the UEFA European Championships in 2008 and 2012. There were many empty seats visible in the stadium as the game kicked off, asking questions of the organisers who had said that the game was sold out. Spain started on the front foot with short, crisp passing, leaving Costa Rica chasing the ball. Spain almost got a breakthrough in the 5th minute but Dani Olmo shot just wide, with Marco Asensio doing similar just 4 minutes later. But on 11 minutes, Olmo scored Spain's 100th goal in World Cups to set Spain off on a flyer. On 20 minutes Spain doubled their lead with a powerful long-range strike by Asensio. 2-0 to Spain. Just before the half-hour mark, Spain were awarded a penalty which Ferran Torres duly converted. 3-0 to Spain who were enjoying almost 75% possession. HT 3-0. The second half started as the first half ended, with Spain on the ascendancy and enjoying the lion's share of possession and territory. Just 8 minutes after the restart, Ferran Torres got his 2nd goal of the evening. 4-0 to Spain who were looking very comfortable indeed. And they went 5-0 up when Páez Gavira scored in the bottom right corner with 15 minutes left to play. And in the last minute of regulation time, Soler got Spain's 6th. 8 minutes of added tome to be played and Spain had time for another with Morata getting his name on the score-sheet. 7-0.

The next matches for Group E are being played on Sunday, with Japan against Costa Rica in the early game, with an eagerly-awaited clash of Spain and Germany in the late match.

Group F

Morocco met Croatia (losing finalists four years ago) in the day's early game. Just four players from Croatia's final defeat by France in 2018 started this game. And Morocco went into the game having only lost two of their past 40 games over the past 3 years. Although Nikola Vlasic managed a toe-poke at goal, Croatia (ranked 12th by FIFA) lacked an attacking spark throughout a lacklustre first half. Meanwhile, Morocco (ranked 22nd) demonstrated creativity but failed to create what could be described as strong opportunities. HT 0-0. In the second half, Croatia continued to dominate possession but could not break down the North Africans' defence, with strong attempts by Perisic and Modric. The match finished 0-0 with only four shots on target throughout the match, 2 from each side. The game was the 3rd goalless draw of this year's tournament as the game was largely played in the middle third of the pitch.

In the group's second game, Belgium (whose best finish was 3rd at the 2018 tournament in Russia; they also finished 4th in Mexico in 1986) took on Canada (currently ranked #41 in the world, compared to Belgium at #2). Canada were combative with a total of 14 shots on goal in the first half, but only two of which were on target. After just 10 minutes, they were awarded a penalty after Yannick Carrasco was judged to handle the ball, but Alphonso Davies' kick was saved by Belgium's goalkeeper, Thibaut Courtois. When Belgium did get the ball, their moves broke down by poor passing, with Kevin de Bruyne guilty more than once. After 25 minutes, Canada seemed to have legitimate claims for a second penalty, but their claims were rejected by VAR. Canada were causing havoc and Belgium seemed to have few answers. However, just before the break, Belgium broke the deadlock with Batshuay netting in the 44th minute, with as assist by Toby Alderweireld. Belgium 1-0 ahead at HT. After the break, Canada came out with all guns blazing; the problem is that, despite all their shots on goal, none were on target, as they do everything but score. They dominated the game and the surprise was that they didn't score. FT 1-0 for Belgium.

Next up for Group F will see Belgium take on Morocco and Croatia take on Canada, both on Sunday.

And today's matches see the remaining 8 teams take to the pitch, with Group G games involving Switzerland against Cameroon and Brazil against Serbia, and Group H games involving Uruguay against South Korea and Portugal against Ghana.