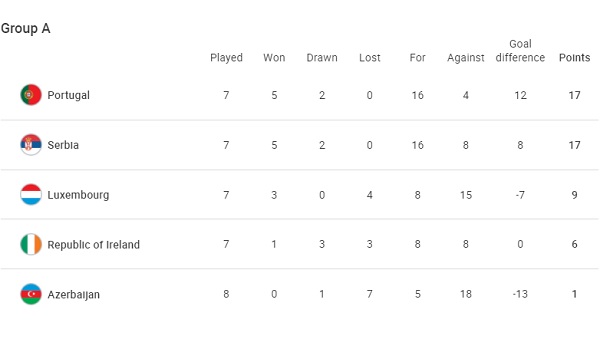 On Thursday 11 November 2021, Luxembourg's Red Devils men's senior football team recorded their third win of their campaign, a 3-1 away win over Azerbaijan at the Baki Olimpiya Stadionu in Baku.
Played in 8C with rain falling, this was Luxembourg's penultimate game in their FIFA World Cup 2022 Qualifying round, Group A, the match hinged on an incident in the 21st minute when Tellur Mutallimov, an Azerbaijani defender, was sent off for a bad foul on Olivier Thill.
While both sides were level at half-time, Luxembourg started to dominate after the break and took the lead from a goal by Gerson Rodrigues on 67 minutes. Sébastien Thill doubled the visitor's lead on 78 minutes. While Azerbaijan rallied and score a goal with 8 minutes left on the clock and threatened Luxembourg's dominant position, Rodrigues added his second, and Luxembourg's third, in time added on at the end of the second half.
Overall, Luxembourg had 12 shots on goal (of which 6 were on target), against 5 by the home team. while it was not an aggressive match, Azerbaijan players received 4 yellow cards and one red car, with Luxembourg picking up just one yellow card. Luxembourg dominated possession with 60% of the ball.
Luxembourg's last match in their World Cup qualifying campaign is this Sunday 14 November when they take on the Republic of Ireland at the Stade de Luxembourg (20:45 kick-off). For this match, there are just a handful of Business Club tickets left, with all Category 1 (€40) and Category 2 (€20) tickets sold. The stadium has a 9,471 seat capacity.
If Luxembourg avoid defeat in this match, they will finish 3rd in the group; if Ireland win, they will leapfrog Luxembourg in 3rd place. Luxembourg famously won in Dublin earlier in the campaign when the Irish team were still finding their feet under new manager, Stephen Kenny. Ireland's form has improved considerably since then and yesterday evening they held Portugal to a goalless draw at the Aviva stadium in Dublin. On Sunday evening, Portugal host Serbia at the Benfica stadium in Lisbon: Serbia need to win this match to top the group to ensure automatic qualification; otherwise, Portugal will go through as group winners.
Luxembourg: Schon (GK), Michael Pinto, Carlson, Chanot, Jana, Barreiro, C. Martins Pereira, Sinani, O. Thill, Gerson Rodrigues, Borges Sanches.