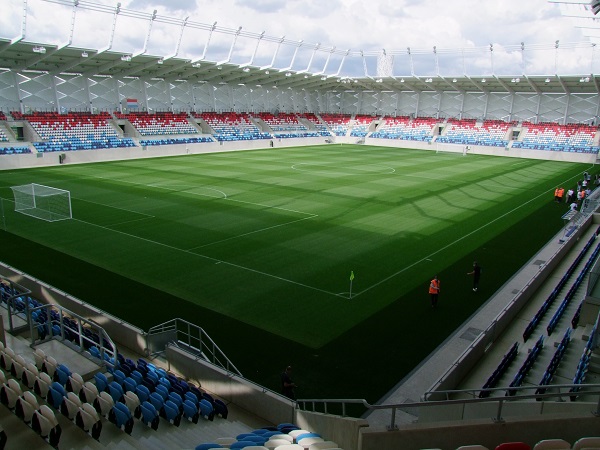 Stade de Luxembourg;
On Friday 13 August 2021, the Ville de Luxembourg held a press conference at which the website for the new Stade de Luxembourg, www.stadedeluxembourg.lu, was unveiled: Lydie Polfer, mayor of the Ville de Luxembourg, together with a delegate from the Ministry of Sports, were joined by representatives of the Luxembourg Football Federation (FLF) and the Luxembourg Rugby Federation (FLR).
Tomorrow, Saturday 14 August, tickets will go on sale via this website for the first competitive fixture to be played at the new national football and rugby stadium, the FIFA World Cup 2022 qualifying match against Azerbaijan on 1 September.
The Stade de Luxembourg website is structured around three main sections:
• Agenda: The agenda offers website visitors an overview of the events, sporting or otherwise, which will take place inside the stadium or in the adjacent multifunctional space, and allows them to purchase tickets via the official ticket offices.
• Practical information, e.g. sub-sections on Getting there (buses, car parks, etc., with real-time data), Find your seat, and Instructions)

• The stadium: Containing an overview of the key figures, the history and the architectural concept, all accompanied by images and clips of the Stade de Luxembourg.
About the Stade de Luxembourg
The national football and rugby stadium, called "Stade de Luxembourg", with 9,514 covered seats, has the latest standards of comfort, technology and safety and can host sporting and even cultural events on the adjacent multifunctional space. Spread over three levels (basement, ground floor, first floor), the Stade de Luxembourg is a modern infrastructure and complies with the standards in force (FIFA / UEFA standards, stadium category 4 & World Rugby standards). Ideally located on the southern border of the capital, between the Cloche d'Or and Kockelscheuer, the stadium offers easy access for all visitors, both Luxembourgers and foreigners.