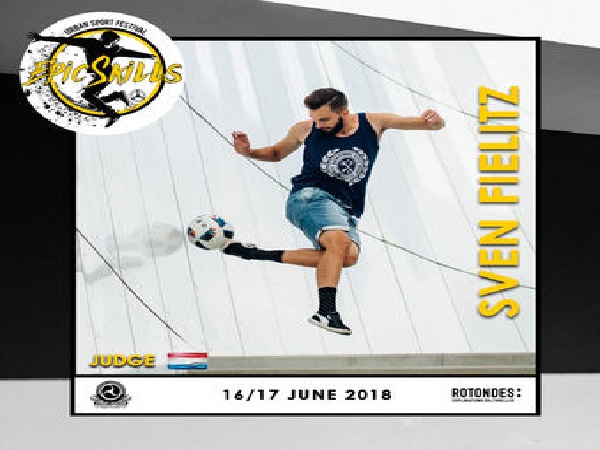 The Luxembourg Street Soccer Association (ALSS) and Rotondes are organising a city sports festival on 16 and 17 June 2018; among the highlights of the weekend will be the first freestyle football competition in Luxembourg, which already attracts participants from around the world.
Urban sports will take possession of Rotondes for two days with the Epic Skills Festival. In light of this year's upcoming World Cup, several disciplines derived from street football will be highlighted, including freestyle football, Teqball, street soccer and Panna KO during this two-day competitive festival, with freestyle football on 16 June and a street soccer tournament the following day.
For the first Luxembourg freestyle football competition, the ALSS has the sponsorship of the current national champion Sven Fielitz. The Luxembourg freestyler will officiate as a juror alongside two other champions: the Filipino-born Swede Philip Warren Gertsson and the young Norwegian Erlend Fagerli.
Seven freestylers were invited to take part: Martin Schopf (Austria), Soufiane Bencok (Belgium), Brian Morales (France), Mathieu Pierron (France), Jesse Marlet (Netherlands), Daniel Mikolajek (Poland) and Bartlomiej Rak (Poland). Freestylers who want to compete against these pros can enter the competition (via email alstreetsoccer@gmail.com) and have the opportunity to face them in a "one-on-one" match.
The next day will feature street soccer with a big tournament organised from 10:00-18:00 on the forecourt of the Rotondes. Once again, all teams (3 players + 2 substitutes, over 16 years old) are welcome upon registration via the above email.
Beyond the competition, with Epic Skills, the ALSS and the Rotondes have proposed a new platform of expression for all the players and artists of the urban world. While the World Cup is on everyone's minds, the moment is perfect to give a spotlight on urban sports that have developed around football and, above all, to encourage the key values of sport, namely fair play and respect for all.
For more information, visit http://rotondes.lu/agenda/details/event/epic-skills/.