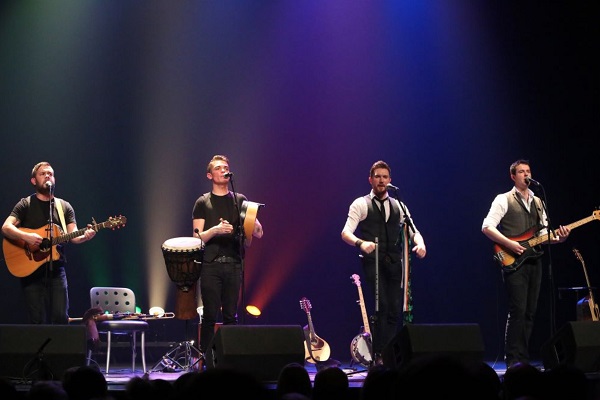 The Kilkennys;
Irish folk groups Na Leanaí and The Kilkennys are returning to Luxembourg this St Patrick's Day to perform at the Syrkus cultural centre in Roodt-sur-Syre, from 19:30.
Na Leanaí (pronounced Na Lah-nee) is a folk group hailing from Northern Ireland composed of the multi-talented new generation of the famous Sands Family. Playing fiddles, flutes, guitars and percussion, the band captivates with enchanting harmonies and lively jigs. The five-piece group features sisters Sorcha Turnbull and Eimear Keane (daughters of Anne Sands) as well as their cousins Ryanne (daughter of Ben Sands), Moya (daughter of Tommy Sands) and Fra (son of Hugh Sands).
A traditional Irish folk and ballad band, The Kilkennys are noted for their dynamic arrangements, energetic performances and charismatic rapport with audiences across the globe. They manage to uphold the Irish Folk/Ballad tradition with a contemporary style. The Kilkennys features Davey Cashin (vocals, mandolin, banjo, guitar, whistles), Tommy Mackey (bass, acoustic guitar, vocals), Robbie Campion (banjo, guitar, mandolin, vocals) and Mick Martin (bodhran, uilleann pipes, low whistles, guitar, vocals).
Pre-sale tickets cost €25 (€17 reduction). Tickets can also be purchased at the doors for €30 (€22 reduction). Kulturpass holders benefit from reduced entry. Tickets can be purchased via tel.: 470-8951 or online at www.luxembourgticket.lu.